It finally happened: BER (Berlin Brandenburg Airport) is ready for use after 14 years (2006-2020!) of construction. Berlin, hot on the heels of other capitals, now has a central airport from which all flights to Europe and beyond will depart. We've gathered everything worth knowing about the new airport. How to get to BER — and how to get out again. Which airlines departs from which terminals. And which special features can be explored in the various terminal buildings.
How many terminals are there at BER?
There are currently two terminals at BER: T1 and T5 (formerly Schönefeld). However, there is currently no shuttle service between the two terminals. If you need to transfer flights in Berlin from one terminal to the other, you'll need to take either a taxi, bus or S-Bahn. Be aware: from the Terminal 5 train station you need to walk about 10 minutes to the terminal building. Next to Terminal 1 is Terminal 2, which was also completed "on time" but is currently not in use due to a reduction in demand caused by the coronavirus pandemic.
Arrivals and departures at BER: How to get there and back
The airport can be reached in various ways — by public transport, by taxi or by rental car. There are also parking spaces for car-sharing providers.
The easiest way to get to BER is by taxi. However, be aware that there are two fare rates: the Berlin fare and the Landkreises Dahme-Spreewald (LSD) district fare, which is a little more expensive. Berlin's local taxi drivers don't like the fact that their Brandenburg counterparts are also allowed to pick up passengers at the airport — which is why they went on strike the day the airport opened.
All in all, you have to pay more than you would for a trip to erstwhile airport Tegel. Those coming from the southeast pay around €45. If you're travelling from Reinickendorf, you can easily fork out €80.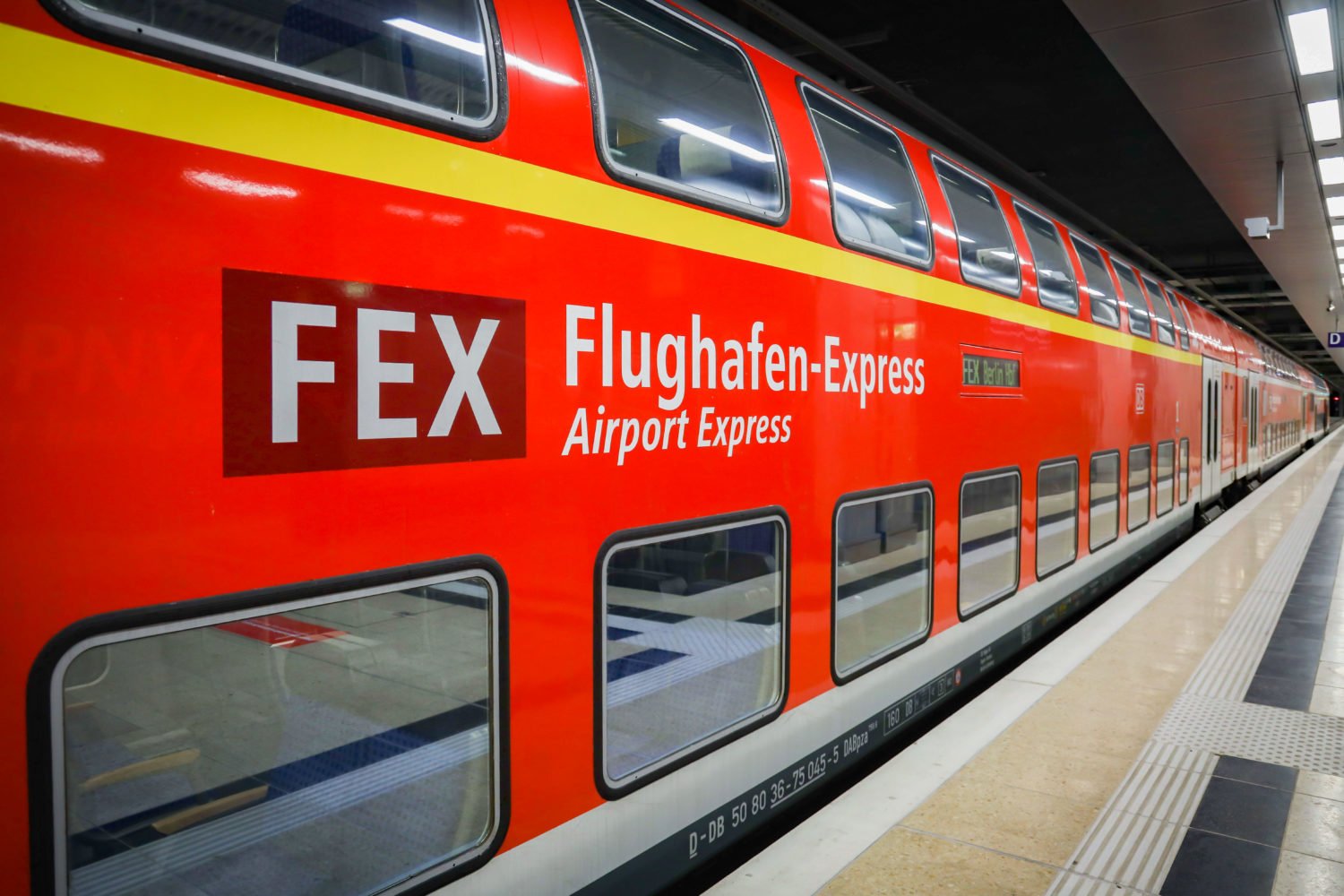 How to get to BER by public transport? The regional train 'FEX' departs from Berlin's Hauptbahnhof four times an hour and takes 30 minutes. These are all regional routes at a glance:
FEX (Hauptbahnhof – Gesundbrunnen – Ostkreuz – BER T1-2 // every 30 minutes)
RE7 (Dessau, Bad Belzig – Berlin-Stadtbahn – BER T1-2 – Wünsdorf-Waldstadt // hourly)
RB14 (Nauen – Berlin-Stadtbahn – BER T1-2 // hourly)
RB22 (Potsdam – Golm – BER T1-2 – Königs Wusterhausen // hourly)
The S-Bahn lines S9 (Spandau – Berlin-Stadtbahn – BER T5 – BER T1-2) and S45 (Südkreuz – BER T5 – BER T1-2) take a little longer. However, they also stop at Terminal 5 (formerly Schönefeld), which is mainly used by low-cost airlines such as Ryanair. Various bus lines also go to T5 and T1/T2. The X7 (X71) takes 18 minutes from Rudow underground station to BER. Bus BER1 connects Terminal 1 with U-Bahn Rathaus Steglitz; bus BER2 goes to Potsdam.
You can also reach BER using these car-sharing providers:
car2go/DriveNow: SHARE NOW
MILES
SIXT share
WeShare
The cars can be collected and parked at T5 (car park P56) and at T1 (car park P4).
It's also possible to hire a rental car. All well-known international companies are located at BER.
BER: Which airlines fly from where?
The largest providers in Berlin are easyJet, Lufthansa and Ryanair. In future, easyJet and Lufthansa will depart from T1, Ryanair from T5. The original distribution of the airlines across all three existing terminals was overridden by the corona crisis, and many airlines are currently not flying to Berlin at all.
Points of interest: These special features are worth a look
As at Tegel and Schönefeld before, there is also a Besucherterrasse (visitors' terrace) at BER. This is located in Terminal 1 and is open daily from 6am to 10pm. Terminal 1 also houses the interdenominational Raum der Stille (Room of Silence). In principle, BER is a non-smoking airport: smoking is only permitted in marked areas outside.
How much of Tegel lives on in BER?
Not much is left of Tegel at BER — at least not when it comes to iconic relics. Not the Boeing 707 and not the EsS-Bahn, a decommissioned S-Bahn train from the 1920s in which Currywurst and chips were served. However, the Ikaros memorial has been given a home at the new airport.
How long did it take and how expensive was the new airport?
The burning question. In all, BER's construction took 14 years, with more than 15,000(!) defects registered along the way — all of which we can hope are now rectified. The total cost of the new airport is also record breaking: almost €7 billion. Politician Dietmar Woidke was still joking in 2017: "We're not planning to land on the moon" — just one of many absurd quotations from those responsible.
I miss Tegel. What can I do?
First of all, you're not alone. We all miss Tegel. Sadly, the airport no longer handles commercial flights since its final decommissioning in November 2020. But, you can revisit the beloved airport's last weekend with our emotional picture gallery, or look back at its fascinating rise from West Berlin's supplementary airport to international brutalist icon. The airport buildings are also set to become part of a new city quarter featuring offices, restaurants and housing.
Original article by Max Müller