Our tips for breakfast in Berlin come straight from the heart — via our very satisfied bellies. Here we'll introduce you to 12 of our very favourite Frühstück spots with which to start your day and, just possibly, cure your hangover. Think freshly-baked flatbread, perfect flat whites and strawberry jam from Brandenburg. Have fun trying them all!
---
A whole lotta taste at Annelies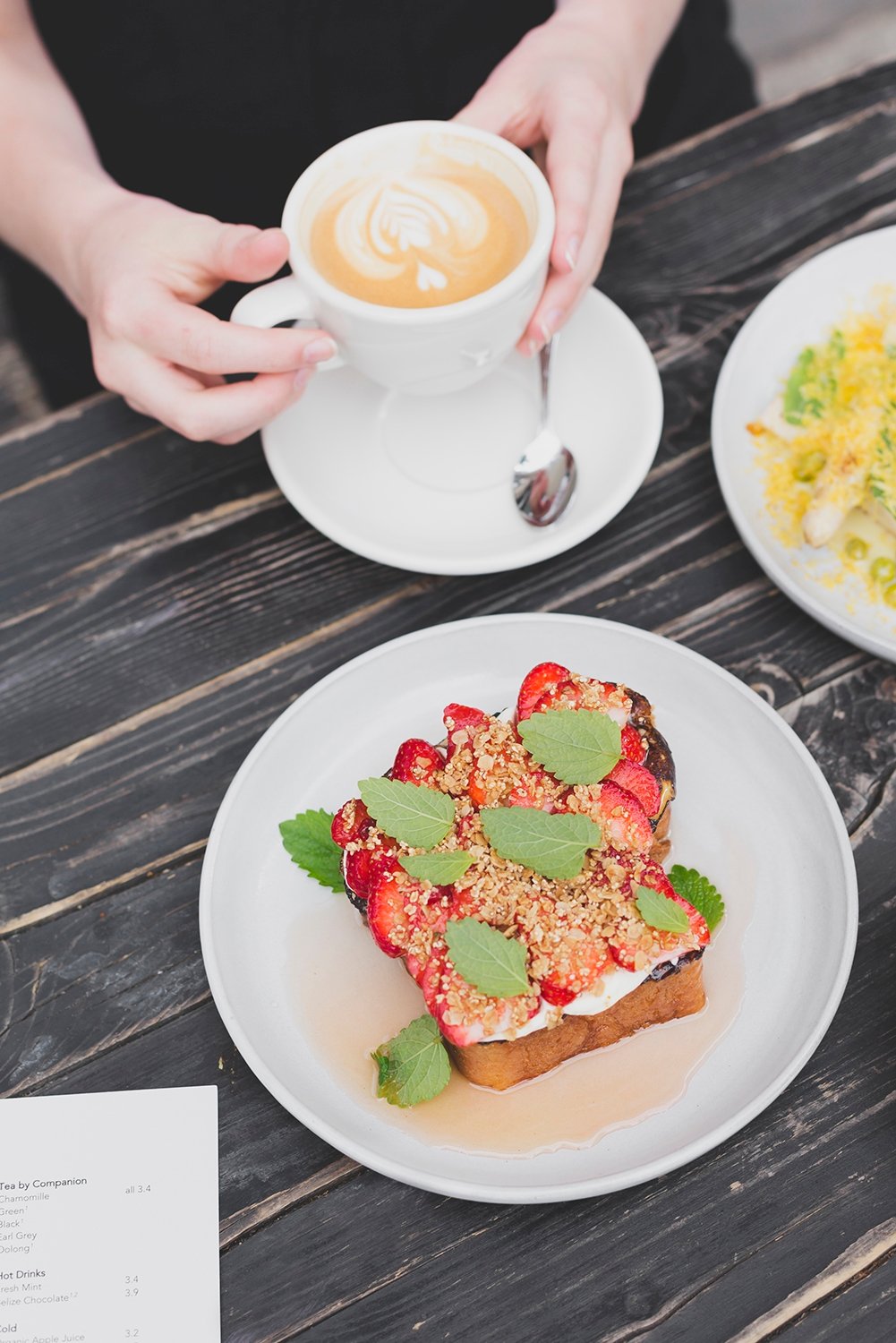 What does Annelies taste like? As if our favourite Berlin restaurant, Lode & Stijn, was now offering breakfast: natural, product-focussed, intuitive. Inspiringly good dishes are prepared in a pleasingly uncomplicated way. We particularly love the bread pudding.
---
Australian-Southeast Asian breakfast at YaMe NumNums
At YaMe NumNums, Australian-style brunch blends with Southeast Asian flavours. Classics like brioche and French toast with bacon are combined with kimchi and ginger syrup, Thai basil, tofu tempura and ginger. Jasmine tea or Vietnamese coffee is served with it.
---
Hummus for breakfast at Al Pasha

Hummus for breakfast? Yes, please. At Al Pasha on Sonnenallee, the ever-reliable chickpea dish is available in the traditional Syrian-Lebanese varieties Msabbaha, Fatteh (with nuts and fried bread!) and Foul. We recommend sharing — otherwise you'll climb right back into bed.
Al Pasha Sonnenallee 77, Neukölln, daily 8am-2am
---
A strong start to the day at Allans Breakfast Club
At this establishment, the salmon is pickled in-house. Which immediately betrays the ambitions of the friendly host. Breakfast as a craft — with poached eggs on top.
Allans Breakfast Club Rykestraße 13, Prenzlauer Berg, Mon-Fri 9.30am-4pm, Sat + Sun 9.30am-6pm, Facebook
---
Breakfast for all the senses at Hallmann & Klee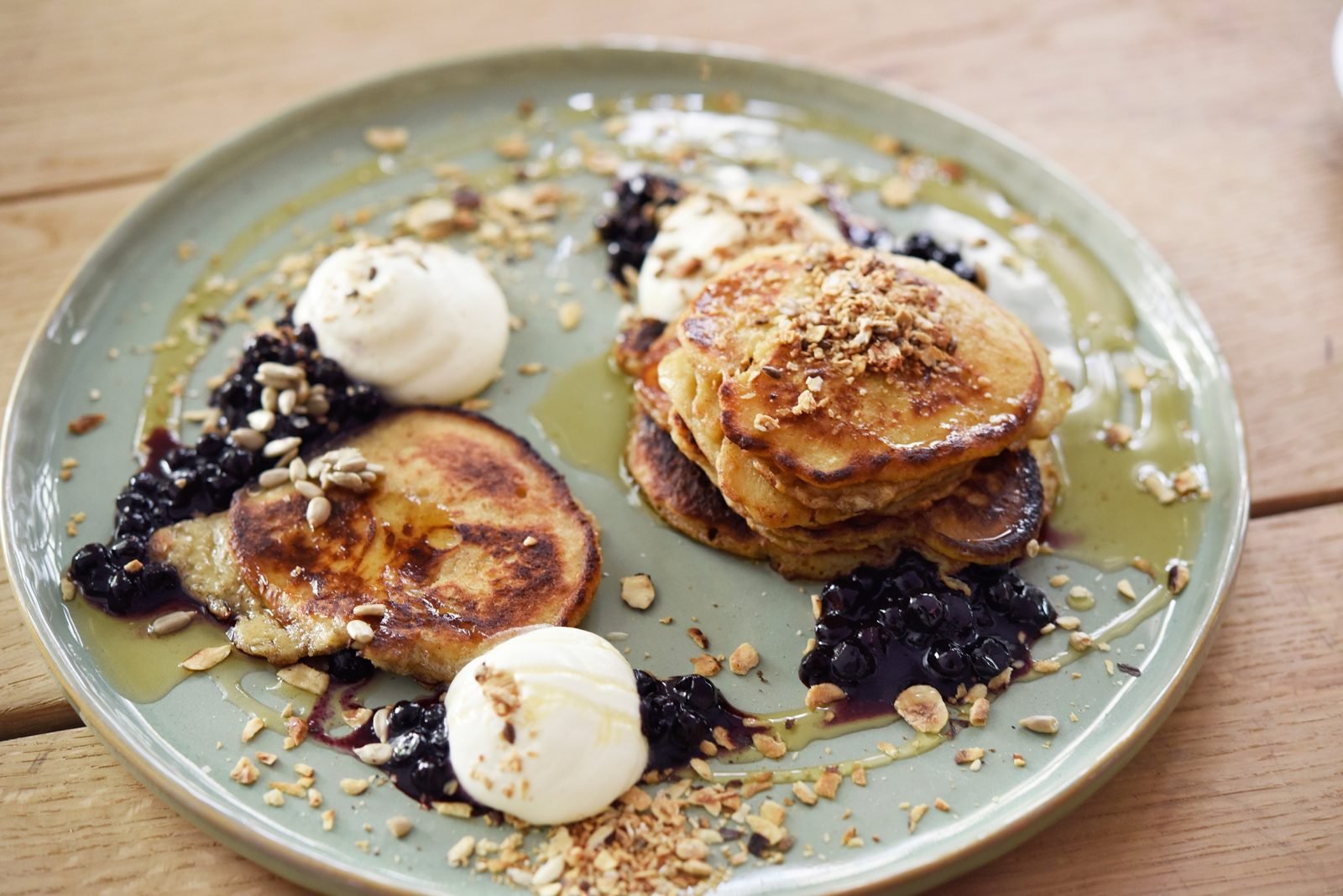 There's a pantry restaurant at Rixdorf's Böhmischer Platz that we heartily recommend at any time of the day. But a morning visit is always our favourite. For breakfast. For pancakes. For bread. And for the exceptionally good, understated patisserie.
Hallmann & Klee Böhmische Straße 13, Neukölln, Tue-Fri 6pm-11pm, Sat 9.30am-4pm, 6pm-11pm, Sun 9.30am-4pm, www.hallmann-klee.de
---
Bowls of happiness at Parker Bowles
Definitely worth a visit: the Parker Bowles on Prinzenstrasse offers mouth-watering specialities from all over the world — made from regional products. For breakfast, we love the Bowls here — Greek-style with yoghurt, honey, bananas and almonds, or even healthier with chia, linseed and coconut. Another tip is the juicy pancakes or scrambled eggs with truffles and rustic Italian bread.
---
Wonderful tastes at the House Of Small Wonder
Japanese breakfast, away from the usual clichés and nestled in a plant-filled dream world, can be found, somewhat surprisingly, on Friedrichstraße in the heart of commercial Berlin. The House of Small Wonder really is a small wonder. Which is something that can also be said for their incredible croissant French toast. Croissant French toast.
---
Lovely breakfast at Zitronencafé in Körnerpark
The setting of the bright gallery café in Körnerpark is pretty special in itself. Here, it takes only a few wooden tables to create soul-warming, homely vibes. And the large windows overlooking the park will help you forget your proximity to the noisy, dirty Hermannstraße. Here you can enjoy a delicious breakfast. Fresh rolls, delicious cold cuts, muesli, homemade spreads, jams and antipasti ensure all-round happiness.
---
Wake up urban and hip at Isla Coffee
Isla Coffee is working towards becoming a zero-waste café. But what does that taste like? Delicious! The wonderful bread pudding, for example, consists of leftover pastries from hip bakery Albatross and is unrivalled in Berlin.
Isla Coffee Hermannstraße 37, Neukölln, Mon-Fri 8am-6pm, Sat + Sun 9am-6pm, Facebook
---
Enjoy a bit of everything at Restaurant Bastard
It smells of home-baked bread on Kreuzberg's Reichenberger Straße. Restaurant Bastard is a great place to go for a really great breakfast. Particularly notable here is the variety and quality of the products. Delicious cheese, homemade vegetarian pastes, scrambled eggs with goat cheese and honey… and the brioche comes oven-warm to the plate. And when the sun shines, you can also sit outside and watch the world go by.
Restaurant Bastard Reichenberger Str. 122, Kreuzberg, Mon-Fri 10am-5.30pm, Sat + Sun 9am-5.30pm, www.bastard-berlin.de
---
Get pampered by breakfast pros at The Future Breakfast
The breakfast pros known and loved from various pop-ups and street food markets have finally settled down in beautiful Rixdorf. An enchanting little place to dawdle away the day.
---
Egg on bread in its most beautiful form at Silo Coffee
You might not expect it from a busy coffee bar at the heart of Friedrichshain's tourist district, but the breakfasts at Silo Coffee are pretty darn good. The small kitchen sends out reliably tasty bites: sandwiches, egg dishes or Bircher muesli.
Silo Coffee Gabriel-Max-Straße 4, Friedrichshain, Mon-Fri 9.30am-3.30pm, Sat + Sun 9.30am-5pm, www.silo-coffee.com
Original article by Rosanna Steppat
---
Once you've posed with your beautiful breakfast, why not check out Berlin's best Instagram spots to further boost your feed? Or, if it's a rainy day, don't miss the chance to visit Berlin's quirkiest museums, featuring everything from medical curiosities to computer games.