Ah, remember the good old days when döner kebabs with questionable meat and even more questionable sauce were sold on the streets of Berlin for a euro? Thank heavens those times are over and the quality of food in Berlin has risen. So have the prices – but with this list of our favourite cheap eats in Berlin you can still stuff your face for little more than spare change.
---
Aroma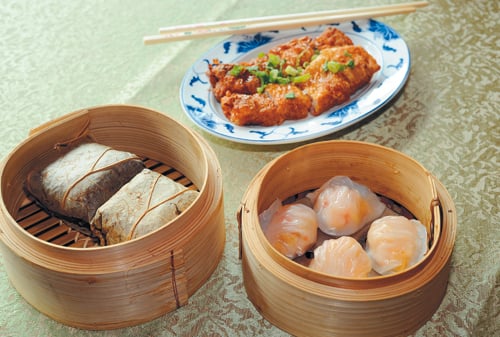 This true West Berlin legend feeds nighthawks, adventurous gourmets, and Chinese families alike. Until 3am they serve fresh dim sum, fish belly soup, and other specialties from different Chinese regions. It's also Berlin's hospitality hangout: chefs, cooks, and bar staff pop in for a bite after hours.
Address: Kantstraße 35, Charlottenburg | Daily 12pm-3am
Directions: S-Bahn station Savignyplatz
http://chinarestaurantaroma.foodpearl.com/
---
Ergün's Fischbude
This legendary fish shack in the S-Bahn arches of Moabit with Istanbul vibes and Berlin flair is a wondrous place. Just a few steps from Bellevue, the official residence of the German president, Ergün has been putting fresh fish on his grill since 1974.
Address: Lüneburger Straße 382, Tiergarten | Daily 3.30pm-12am
Directions: S-Bahn station Bellevue
---
Kurpfalz Weinstuben
Open since 1935, this rustic pub has recently changed hands – and it's only gotten better. Simple but well-crafted and delicious traditional Southern German fare, from cheese and charcuterie boards for under a tenner to Saumagen (Southern Germany's answer to Haggis) and stuffed snails for adventurous eaters. Specials are more creative – and also a bit more pricey.
Address: Wilmersdorfer Straße 93, Charlottenburg | Tue-Thu 6pm-12am, Fri+Sat 6pm-1am, Sun 6pm-12am
Directions: U-Bahn station Adenauerplatz
https://www.kurpfalz-weinstuben.de/
---
Lasan
Many Berliners of Kurdish descent run restaurants and fast food joints – but rarely explicitly serving distinctive Kurdish cuisine. Except for Lasan at Kottbusser Tor, where you can explore dishes and culinary traditions of the autonomous region of Iraqi Kurdistan. Think meat skewers grilled on the fire, rich pilafs, crispy dumplings and fresh delicious bread, served straight from a tandur.
Address: Adalbertstraße 96, Kreuzberg |Mon-Fri 9am-11pm, Sat+Sun 10am-12am
Directions: U-Bahn station Kottbusser Tor
https://www.lasan-restaurant.de/
---
Lavanderia Vecchia
Three courses for twelve euros? Yes, please! Lavanderia Vecchia serves one of the best lunches in the city, classical Italian cuisine with a twist (or two) in a quirky and unique atmosphere. By the way, owners of a Berlinpass get a discount and a free meal once a month. Dinners are usually nine to ten courses long and far more pricey – a completely different experience in itself.
Address: Flughafenstraße 46, 2nd courtyard, Neukölln | Mo-Sat 12pm-3pm
Directions: U-Bahn station Boddinstraße
https://lavanderiavecchia.wordpress.com/
---
Joseph Roth Diele
Joseph Roth Diele has been feeding Berlin's artsy crowd since well before Potsdamer Straße became the epicentre of the city's art scene. The rustic little diner pays homage to the author Joseph Roth who supposedly wrote his 1923 novel The Spider's Web while living in the same building. Grab a book and order one of their filling Stullen, traditional German open-face sandwiches, or their fluffy Käsespätzle. Wonderful traditional lunch menu, too.
Address: Potsdamer Straße 75, Tiergarten | Mon-Thu 10am-11pm, Fr 10am-12am
Directions: U-Bahn station Kurfürstenstraße
---
Maiden Mother & Crone
Holy mother! The three guys behind this lunch spot in the gallery district cook whatever they fancy on the day, always with a vegetarian alternative. It could be Kimchi stew one day, Biryani the next, and tacos on the day after. Come early, they sell out quickly.
Address: Potsdamer Straße 93, Tiergarten | Mon-Fri 12pm-6pm
Directions: U-Bahn station Kurfürstenstraße
http://facebook.com/maidmothcro/
---
Taverna Ouisia
Greek restaurants often have a rather bad reputation in Germany, a pity considering Greece's rich culinary history. Schöneberg's Taverna Ouisia however is an exception: they serve a range of traditional Mezedes-Orektika, small dishes full of flavour and fun, plus a selection of Greek wines.
Address: Grunewaldstraße 54, Schöneberg | Wed-Mon 5pm-12am
Directions: U-Bahn station Berliner Straße
---
Orient Eck
This kebab place on the corner of Kottbusser Tor has a devout following for its döner kebab 'special plate'. While we're more picky when it comes to our kebab meat and would advise you to quench your kebab craving at Doyum on the other side of Kotti, we definitely recommend visiting Orient-Eck on Wednesdays for lunch when homemade Manti, tiny Turkish dumplings, are served.
Address: Reichenberger Straße 176, Kreuzberg | Daily 12pm-7pm
Directions: U-Bahn station Kottbusser Tor
---
Musashi
Of course, this place is not the very best sushi in town. But certainly one of the best, especially for its extremely affordable price – and they've been going since well before the wall came down. Musashi is literally a hole in the wall on Kottbusser Damm — inside it's plastered with hand-drawn images of their menu and pictures of sumo wrestlers. Sushi sets start at five euros and are of course rolled to order. And if you're hungrier, they also have a mean Katsu Curry on their menu.
Address: Kottbusser Damm 102, Kreuzberg | Mon-Sat 12pm-10pm, Sun 2pm-10pm
Directions: U-Bahn station Schönleinstraße
---
Nil
In a city with plenty of fantastic falafel, Nil is still an exceptional place. In their three locations, two in Friedrichshain and one in Kreuzberg, they fry the Sudanese version called Tamiya, next to a number of other traditional and modern Sudanese dishes. Whatever you decide to eat, make sure to order plenty of extra peanut sauce!
Address: Grünberger Straße 52, Friedrichshain | Daily 12pm-12am
Directions: S- and U-Bahn station Warschauer Straße