This Sunday, finally, she returns: legendary venue Clärchens Ballhaus on Auguststraße opens its doors again after eight months of renovations. We've already paid the old lady a visit and can tell you all about Berlin's new old living room.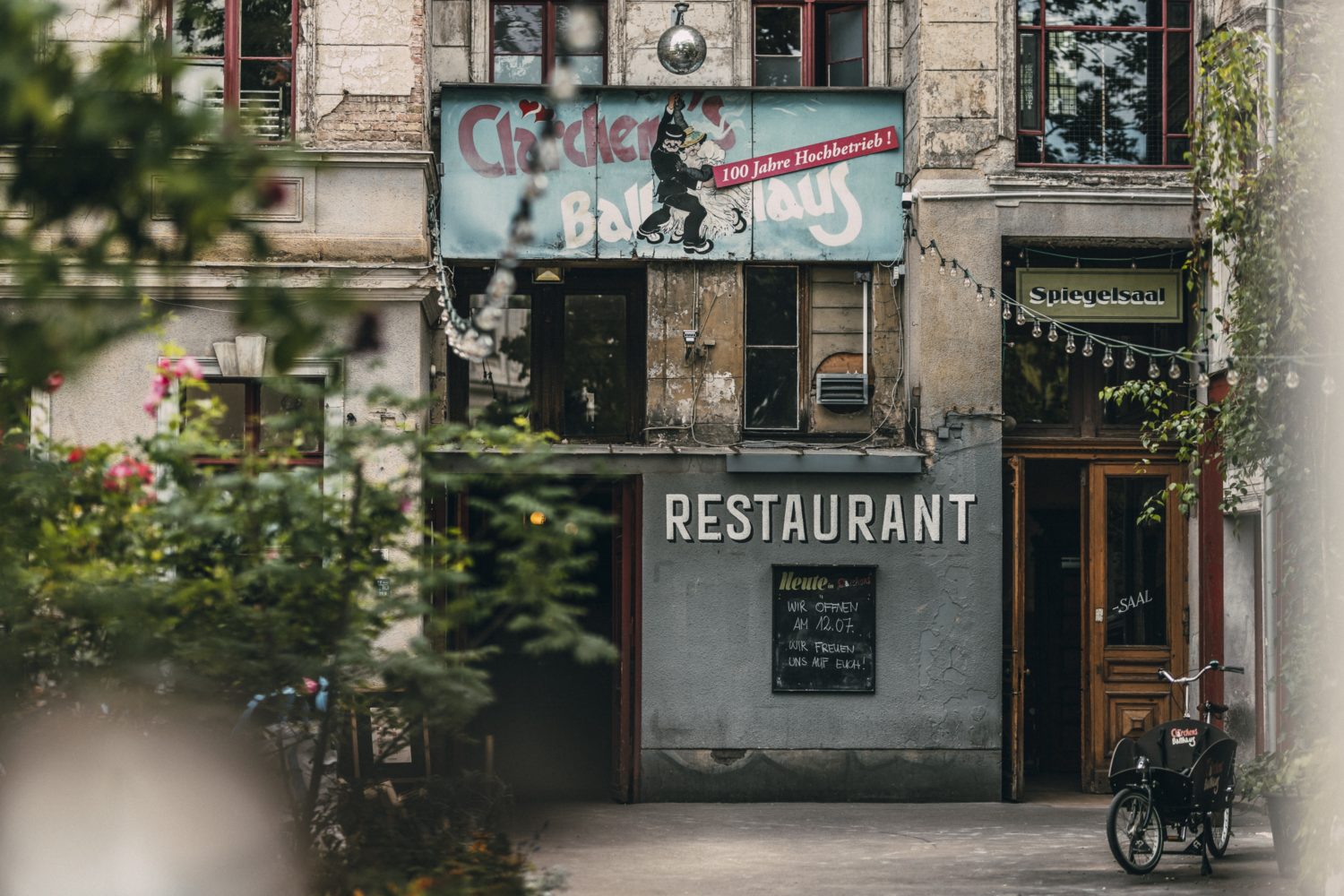 The feelings when entering the over hundred years old venue, is still the same. Yet, it all feels a little bit more tidy, in the best way possible. It is, after all, the most passionate and casual of all of Berlins surviving ballrooms. Now, the electrical wiring received a facelift, the old tinsel hanging from the ceiling has been removed. Now, the main dining space appears lighter, more airy. And nostalgic in a way that leaves space for the current.
Clärchens Ballhaus returns as a pub of sorts, for now. Because dancing is still forbidden in this city that's so used to dancing on the volcano. Because there was, no, is this virus still around. And this is why this return feels oh so very good: it's a bit of normalcy and there isn't anything a perfect Wiener Schnitzel and a gorgeous terrace with old trees like theirs can't solve.
Inside, two bars will continue to offer a space for each and every Berliner to stand and drink together, no matter their age, biography or way of life, in the future. And oh, to enter the "Spiegelsaal", mirror room, again, that has been used as a backdrop for films so many times.
Simon Dienemann is the head chef, a young cook who's seen his fair share of fine dining temples – and decided to return to "honest, unpretentious, feelgood food". Especially now, after Covid. There are, for example, these incredible radishes, served whole with their green tops with fresh rapeseed oil and goat quark. Black pudding made by the "Black pudding knight" in Neukölln. Or roasted sweetheart cabbage as the best goulash you've ever tasted – a dish that's accidentally vegan, too.
And yes, the "Schwoof" is going to return, too. To Berlin, and to Auguststraße 24. Back to this timeless building that's managed to preserve its soul after all these decades and eras. That's always given solace to the city, that's always been a place to hold on to and to come together in.
Welcome back, Clärchens Ballhaus. You've been sorely missed.
Clärchens – Original seit 1913, Auguststraße 24, Mitte, 030/555 78 54 40, Mo-Fr 15-23 Uhr / Sa+So 12-23 Uhr, www.claerchensball.haus
---
Translated by Aida Baghernejad
---
Can't get enough of summer in Berlin? Here are 12 beautiful waterside places to check out in the city — and 12 of our favourite restaurants by the water.