What to do when you can't sell your handmade boutique items in corona times? Many of Berlin's enterprising fashion designers have switched to producing textile masks. And, with the news that masks will be mandatory on Berlin's public transport from next week, now is the time to invest in a stylish face covering you actually like — and support local designers at the same time.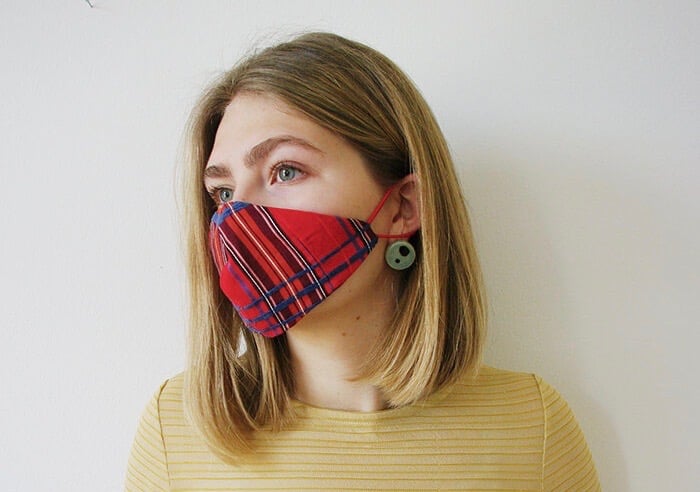 Corona masks: Fashion and health come together in Berlin
Doctors, virologists and hygiene experts all agree: fabric masks do offer some protection — mainly for others. Which is good news for our local designers and tailors.
For Berlin designer Lena Bunjes, the production of useable mouth-and-nose masks is no miracle. After all, she usually specialises in the design of patterns for children's clothing. Via her website berlinerie.net and the pattern portal sewunity.de, she offers templates for two different types of masks: a pleated model that expands when put on, and an ergonomic mask whose cut is already tailored to the shape of the face.
Both patterns can be downloaded free of charge together with sewing instructions. For Lena, it's her social contribution at a time of crisis. For her customer, however, it's a taster of the other practical sewing tips Berlinerie has up its sleeve.
Fashion companies saved by mask making
For Michael Pattison, a designer from New Zealand who lives in Berlin, the production and sale of his self-designed masks is the only thing he can focus on right now. He's been supplying boutiques in New Zealand with his label Michael Pattison Design for over 20 years, and those in Berlin for seven years. The typical Michael Pattison look: predominantly black and white, although animal and floral prints can now be found among his ergonomically shaped masks. Panda bears for example, but also simple black crosses.
Masks between €20 and €25
Pattison is his own model — times are too tough to hire strange mannequins. The fact that the designer charges between €20 and €25 for his masks actually led to a little shitstorm on Facebook: there were people who were convinced that Pattison's products had to be available at cost price. The designer's response? "I'm struggling to survive right now, I have to pay rent — I don't know what people think of that."
So, why not wear a statement on your face? On the one hand, the statement generally expressed by wearing a mask is that you've understood the seriousness of the situation and are prepared to show consideration. Add to this the life-affirming message that consideration can also be stylish! And, as usual with clothes and accessories, the right mask can help express your sartorial flair.
Fashion statements — on the face
Ayo Sonko, a Berlin musician from Gambia who otherwise earns his living with drum workshops in schools, has joined forces with the Ghanaian tailor Asamoah. He now offers masks made of cotton-based fabrics with Afro prints for €10 to €15. His masks featuring the iconic Kente pattern are particularly popular. Their distinctive zig-zag or diamond shapes were originally conceived by the Akan people of West Africa, featuring hand-woven rows of fabrics sewn together to create royal robes. Correspondingly, the patterns have come to symbolise black self-confidence across the world — which can now be worn, rather wonderfully, in the middle of your face.
Berlin textile company Cemalettin Türker is a little more militant and produces garments for the likes of illustrious department store Galeries LaFayette. Among the many textile masks produced in its four Berlin branches are those with military camouflage prints. It's a pattern that conquers the fashion scene anew every few years. And whose appearance as mouth and nose protection can now also be understood as a declaration of war: screw you, corona.
Evelin Brandt, a long-standing Berlin designer, also wanted to launch her spring/summer collection with strong patterns. Corona, however, has stalled the business for now. "The fashion company Evelin Brandt Berlin produces face masks for daily use," the designer explains in a press release. And hopes for a loyal clientele, who will at least provide a little work by buying masks for €13.40.
"The reusable masks protect you and help small sewing businesses that urgently need work and support," says Brandt. Anyone who decides to buy one will receive a mask with a mouldable shape. And the possibility to insert an additional lining — and with a sewn-in label: Evelin Brandt fashion at a bargain price.
Masks for the resourceful
As always, Elisabeth Prantner proves to be hugely resourceful. With her alteration studio Bisesmirvomleibe it's mainly older textiles that are stylishly reworked, thus saving the world that little bit more waste. Of course, this also leaves enough material for a mask collection of her own. "We have them in S M and L, colours: plain, colourful and discreet," says Prantner and adds: "They're made of cotton, double-layered and you can insert a filter in between. We use vacuum cleaner bags."
Environmental protection and upcycling are also part of the fashion DNA at Berlin hat brand ReHats. Because the unusual baseball caps for which the name ReHats stands all had a life before: they were made from worn work clothes or old coffee sacks. It's clear that with such a label, face masks also have added value: "With every set of masks purchased, ReHats donates a polypropylene hygiene mask to the Berliner Stadtmission.
Masks in corona times: fashion finds a way
Berlin fashion designer Marisa Fuentes Prado, who hails from Peru, has always fought the good fight with her label Maqu, with the materials of her minimalist dresses, coats or skirts usually made from certified organic textiles. "Instead of the popular one-off skirts and dresses," says Fuentes Prado, "we now produce masks as small batches or individual pieces from high-quality cotton." Even better, the masks can be washed daily at 60 degrees. "Best to do it in the sink," she adds, "so as not to strain the washing machine every day."
In contrast, there is little need for sudden adaptation for Berlin fashion label Kollateralschaden. The jumpers, dresses and scarfs by Philippe Werhahn and Dennis Schal have always impressed with their versatility. So a calf-length dress with a luxe knitted collar also doubles as a sweatshirt — with an even more generous collar.
In cooler temperatures you can wrap yourself up in one of their creations, while right now they provide protection from the virus. Pulled over your mouth and nose, the "Kolla scarf" absorbs all aerosols. And should the pandemic hopefully be over at some point, the stylish garment serves well as a scarf — or headband.
---
Corona fashion: Where to get your face masks in Berlin
Auerbach
Masks from the necktie manufacturer, from €18 www.auerbach.berlin/collections/mund-nase-masken
Atelier Nuno
Temporary masks from €10 upwards
www.atelier-nuno.com/special-behelfsmasken/
Atelier Pink Passion
Cotton masks from 9,50 € upwards
www.atelier-pink-passion.de/
CharLe
Cotton masks from €12 upwards
charle-berlin.com/en/
Colorblind Patterns
One mask costs €7, 3 masks €20. Order by e-mail via: [email protected]. www.colorblindpatterns.com/
Berlinerie
Lena Bunjes. Patterns for masks at: www.berlinerie.net and www.sewunity.de
Michael Pattinson Design
Mouth and nose masks from €20, can be custom-made. Available at: www.pattisondesign.com, www.facebook.com/michael.pattison2020
Ayo Sonkos Afro-Masks
Available for €10 or €15 depending on the design at: [email protected] or www.facebook.com/Ayosonko
Schneiderei Cemalettin Türker
Face masks available for €8 each via: [email protected] | Tel: 815 7355 or 0178-550 1720
Evelin Brandt Berlin
Masks for €13.40 each (bulk discount possible). Available at: www.evelin-brandt.de
Lisa-D Masks
Available for €15 each at shop.lisad.com
ReHats Masks
Three masks for €39.90 at www.re-hats.com/accessoires/gesichtsmasken/
Maqu-Masks
Available for €22 each via: www.bymaqu.com/shop/maqu-mask, [email protected], or Tel: 0175-20 68 546
Kolla Schals
From €19 each or from €79 for 5 pieces at: www.kollateralschaden.com
---
Translated from original text by Eva Apraku
---
Keen to support Berlin's local gastro scene, too? These 11 weekly food markets are still open.
---
---
[smbtoolbar]