Berlin isn't all grey and concrete — even though it might seem that way during these long winters. No, there are plenty of gardens and little farms dotted within and just the outside the city, supplying some of our favourite restaurants with fresh vegetables, fruit and more. So, no more excuses not to eat your (regional) greens!
Ernst Restaurant
Two, three — sometimes only one ingredient on a plate. Often harvested only the very same morning. Of course this all sounds highly conceptual, but it's also so good that it quickly elevated Dylan Watson's 12-seat eatery to the status of Berlin's most important restaurant. Sit down for less of a meal and more of a lecture on stunning ingredients.
Address: Gerichtstraße 54, Wedding | Wed-Sat 7.30pm-12am
Directions: S- and U-Bahn station Wedding
---
Bone.Berlin
Every lunch a voyage across international cuisine: Markthalle Neun's canteen serves up cultural experiences on a plate. And the headliners are always greens and veggies from the region and all around the world.
Address: Eisenbahnstraße 42/43, inside Markthalle Neun, Kreuzberg | Mon-Fri 12pm-4pm, Sat 10pm-4pm
Directions: U-Bahn station Görlitzer Bahnhof
---
Café Botanico
Martin Höfft, owner of Café Botanico, turned an empty lot behind Richardstraße in Neukölln into a magical permaculture garden. Here he grows herbs, greens and a few vegetables, only picking small amounts to use each day for his risotto, salads, and other Italian dishes with a Berlin twist. Several times a year, Höfft also offers garden tours – check availability.
Address: Richardstraße 100, Neukölln | Tue-Sun 12pm-10pm
Directions: U-Bahn station Karl-Marx-Straße
---
Kin Dee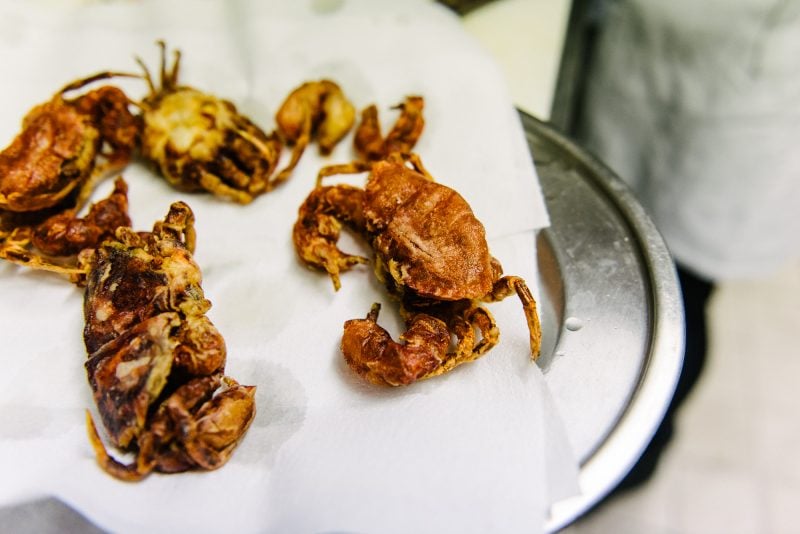 Thai cuisine meets fruit and vegetables from Brandenburg meets contemporary arts – that's the celebrated fine dining Thai restaurant Kin Dee in a nutshell. Self-taught chef Dalad Kambhu reinvents the taste of her childhood with the produce of her new home Berlin. The set menu (there is no à la-carte option) is a beautifully crafted pleasure and opens new perspectives on the oh-so-boring vegetables.
Address: Lützowstraße 81, Tiergarten | Tue-Sat 6pm-10pm
Directions: U-Bahn station Kurfürstenstraße
---
Lucky Leek
Cute name, fine cooking: Lucky Leek chef Josita Hartano proves that vegan cuisine doesn't have to be boring or dogmatic. Fine dining with ethics, fully plant-based. The Guide Michelin agrees.
Address: Kollwitzstraße 54, Prenzlauer Berg | Wed-Sun 6pm-10pm
Directions: U-Bahn station Senefelder Platz
---
Mars
While it may take some time until we're growing greens on planet Mars, Wedding's restaurant Mars — set inside silent green Kulturquartier, a crematorium-turned-event space — serves inventive and almost otherworldly vegetable dishes already. The weekly changing lunch menu is always worth sampling — so too is the brunch at weekends.
Address: Gerichtstraße 35, inside silent green Kulturquartier, Wedding | Mon-Fri 12pm-6pm, Sat+Sun 10am-5pm
Directions: S- and U-Bahn station Wedding
---
Nobelhart & Schmutzig
'Brutally local' is how restaurateur and sommelier Billy Wagner and head chef Micha Schäfer call their approach to cooking and dining. Meaning: no pepper, no lemon, nothing that doesn't grow or can be sourced in the capital and its surroundings. Instead, they make the region's produce and crop really shine. More theatre than a mere dinner.
Address: Friedrichstraße 218, Kreuzberg | Tue-Fri 6.30pm-2am, Sat 6.30pm-12am
Directions: U-Bahn station Kochstraße/Checkpoint Charlie
---
Palsta
It's a Nordic affair: chef Filip Sondergaard lives on an allotment – and uses the vegetables and fruits he grows in Palsta's kitchen, pickling, fermenting, and preserving summer's bounty for the winter season. Washed down with one of the beautiful wines on the menu, it's the perfect place for a bite and a tipple.
Address: Oderstraße 52, Neukölln | Tue-Sat 6pm-11.30pm
Directions: U-Bahn station Boddinstraße
---
Forsthaus Strelitz
Granted, this place is not within the Ring. It's not even within Berlin's city limits. But definitely worth the trip out of town. Chef and owner Wenzel Pankratz took over his parents' farm and turned it into the fine dining restaurant of our dreams – most, if not all, ingredients are grown on the farm and cooked on a wood stove. Definitely worth staying late and overnight in the stylish guest rooms to taste the breakfast in the morning with home-made bread, cold cuts, jams and jellies.
Address: Berliner Chaussee 1, Neustrelitz | October to April Thu-Sun 7pm-11pm, May to September Wed-Sun 7pm-11pm
Directions: Neustrelitz train station
---
Good Bank
Farm to table in less than five minutes: Good Bank is a deli with its own integrated vertical farm, growing salad greens in-house and using them for salads, flatbreads, and warm dishes. It doesn't get any fresher than this!
Address: Rosa-Luxemburg-Straße 5, Mitte | Daily 11.30am-10pm
Directions: S- and U-Bahn station Alexanderplatz