The world continues its fascination with the long, decadent nights of 1920s Berlin. Thankfully, the city is full of relics from its golden age: architecture, music, dance, theatre, booze. We guide you through places where the original twenties magic remains.
---
---
Theater im Delphi
The former silent film cinema served as the location for all scenes at club Moka Efti in celebrated series Babylon Berlin. Built in 1929, the art deco architecture still breathes the original flair of the decade — even extensive restoration works before the reopening in 2017 couldn't change that. These days, the Delphi shows classics like Nosferatu, accompanied by silent film musician Carsten-Stephan Graf von Bothmer on a Steinway grand piano. But that's not all: the venue's morbid charm is also a backdrop for theatre, opera, and twenties-themed parties such as the recent 'Swinging Silvesterball'. Artists like Anja Pavlova, burlesque performer, paid their respects to the sinful Berlin of the 1920s.
Address: Gustav-Adolf-Straße 2, Weißensee
Directions: tram 12, 50, M1, M2, M13
http://www.theater-im-delphi.de
---
---
Babylon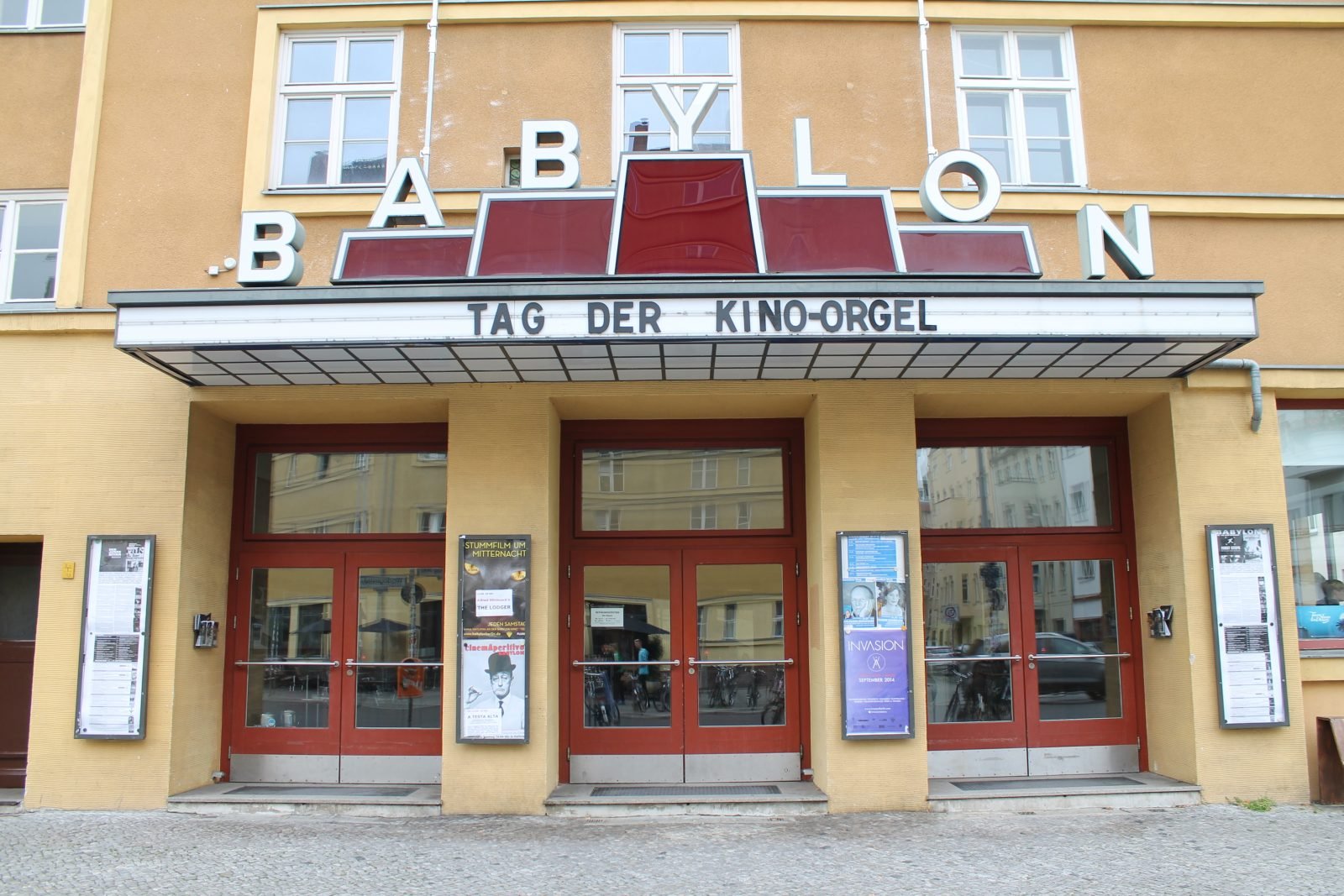 Babylon is home to the only theatre organ preserved at its original location in Germany — inaugurated in 1929, restored in 2019. It's used for the 'Stummfilm um Mitternacht' ('silent film at midnight') series every Saturday. The only permanent cinema organist in Germany, Anna Vavilkina, plays the legendary instrument. In the early hours, the free(!) screenings are dedicated to the nocturnal metropolis, decadence, and the spooky. On the programme: Metropolis, The Cabinet of Dr Caligari, and Cain.
Address: Rosa-Luxemburg-Straße 30, Mitte
Directions: U-Bahn station Rosa-Luxemburg-Platz
---
---
Absinth Depot Berlin
No twenties night would be complete without the green fairy — i.e. absinthe — putting in an appearance. The building, located in Mitte's Scheunenviertel (itself one of the prominent locations of Alfred Döblin's 1929 novel Berlin Alexanderplatz) is one of the oldest in the Kiez. It all started with absinthe tastings, held by owner Hermann Plöckl, in a back room after the shop closed. Back then, there were five absinthes to try — now the range extends to almost 300 varieties. Visitors can shop until midnight or try out the absinthe on site. Did they really drink the infamous wormwood spirit with caramelised sugar and water in the 1920s? Hermann Plöckl knows.
Address: Weinmeisterstraße 4, Mitte | Mon-Fri 2pm-12am, Sat 1pm-12am
Directions: U-Bahn station Weinmeisterstraße
---
---
Bar-hopping
In 1900, there were supposedly over 300 distilleries in Berlin. In the dance halls of the twenties, champagne was the most popular drink. The top dog in town, however, was spirit producer Mampe who not only provided Berliners with the bitter liqueur 'Mampe Halb & Halb', but also with vodka and gin. One of the few surviving recipes of the times is Berliner Luft, consisting of 4cl Mampe Halb & Halb, 2cl Gilka Kaiser-Kümmel-Kümmel, and 2cl of Asbach Weinbrand, stirred in the glass on ice, with a spritz of orange zest. If stirring is too complicated, we recommend touring bars such as Reingold, Hildegard — named after salonnière Hildegard Dahlmann — or Anita Berber, a bar with a nightclub. Brand new: a Moka Efti for the 21st century, co-founded by the grandchild of the legendary Berlin dance hall's original director.
Addresses:
Reingold, Novalisstraße 11, Mitte
Hildegard Bar, Marburger Straße 3, Charlottenburg
Anita Berber, Pankstraße 17, Gesundbrunnen
Moka Efti, Stadtbahnbogen 159/160, Mitte
---
---
Mulackritze
In the seedy bar named after its location on Mulackstraße 15 in Scheunenviertel, artists and gangsters were regulars. The joint received more recent attention by way of the 2001 film Sass by Carlo Rola, which tells the tale of two burglar brothers. In the film, the bar serves as a meeting point for the brothers. Infamous even back then as a dive frequented by the demimonde, its original furniture — including the back room known as the 'harlot parlour' — can be seen at Charlotte von Mahlsdorf's 'Gründerzeitmuseum' ('Wilhelminian-style' museum) .
Address: Hultschiner Damm 333, Mahlsdorf
Directions: S-Bahn station Mahlsdorf
http://www.gruenderzeitmuseum-mahlsdorf.de/
---
---
From Clärchens Ballhaus to Ballhaus Berlin
The 1913 ballroom lives on with its 'Clärchen swingt' and 'Schwoof' dance nights in the style of the 1920s — although following last weekend's goodbye parties, things are temporarily on hold due to much-needed restoration works. The 'Schwoof' party with DJ Clärchen and the Ballhausband will continue at Ballhaus Berlin, another old ballroom in Mitte. The multifunctional venue, dating from 1905, calls itself the 'home of the twenties'. And it's perfect in style: the hall overlooked by balconies and a spiral staircase, low lights, and even table telephones with which to call neighbouring tables, all set beneath high ceilings and between plush red and gold walls. When no parties are taking place, vintage flea markets or the 'Kabarett der Namenlosen' ('cabaret of no-names') , inspired by the Weimar Republic, are held.
Address:
Clärchens Ballhaus, Auguststraße 24, Mitte | closed from Saturday, January 11th
Ballhaus Berlin, Chausseestraße 102, Mitte
---
---
Admiralspalast
In December and early January, the show 'Berlin Berlin – the Great Show about the Roaring Twenties' ran here. But even when the programme of the Admiralspalast, which dates from 1910, isn't dedicated thematically to the Weimar Republic, it's always worth a visit. The venerable establishment is one of the few surviving entertainment venues from the early 20th century. Initially planned as a bath house with a bowling alley and cinema, it became the great revue and operetta theatre of its day, after an interlude as a vaudeville venue. In the 1920s, the famous Tiller Girls danced here: scantily-clad ballerinas, throwing their long legs in the air synchronised to zippy pop songs of their day.
Address: Friedrichstraße 101, Mitte
Directions: S- and U-Bahn station Friedrichstraße
https://www.admiralspalast.theater/
---
---
Wintergarten Varieté
Whether it's the Berlin Burlesque Festival or the Bohème Sauvage parties, at Wintergarten the community regularly comes together to pay homage to the wild nightlife of the twenties. Vintage, however, is only the name: the original Wintergarten-Varieté, founded in 1897, was located close to Friedrichstraße train station. In 1944, it was over for the bombed-out theatre at that location. In 1992 there was finally a renaissance: the new venue on Potsdamer Straße was built to continue the opulent history.
These days, Wintergarten is host to vintage-style gala performances and the likes of The Savoy Dance Orchestra and Max Raabe's Palast Orchester. From February 2020, they explicitly look back 100 years: the whole building, from foyer to bathroom, is to be redesigned in the style of the twenties. Magicians, acrobats and dancers will take the stage. The vaudeville hall stages shows produced in house — but also offers a platform for glittering guest performances.
Address: Potsdamer Straße 96, Tiergarten
Directions: U-Bahn station Kurfürstenstraße
https://www.wintergarten-berlin.de/
---
---
Bohème Sauvage
Founded in 2006 by Else Edelstahl, the party series has shed its feathers from private salon to become a hub for 1920s-themed events in Berlin. From readings to psychic sessions to absinthe bars, they offer everything a twenties fan's heart could desire at rotating venues including Grüner Salon, Wintergarten, or Volksbühne. If you fancy trying some swing or Charleston, you'll have to pass the strict dress code check. You'd be well-advised to pair the shimmering chic of the Weimar times with a dash of Fin de siècle melancholia. "You cannot be overdressed enough", is Edelstahl's motto.
Changing locations, information at www.boheme-sauvage.com
---
---
Clothes and accessories
To rent, buy, or tailor? Everything is possible in Berlin. At Le Boudoir, for example, the shop specialised in 1920s-style fashion and accessories. Or Berliner Modeinstitut in Friedrichshain, which offers an array of flamboyant outfits for rent and purchase. At Charming Styles, an atelier for fashion from the 1920s, '30s and '40s, women can get the vintage garments of their dreams individually tailored, while at Herr von Eden, the gents can find theirs.
Addresses:
Le Boudoir, Wühlischstraße 19, Friedrichshain
Berliner Modeinstitut, Samariterstraße 8, Friedrichshain
Charming Styles, Stettiner Straße 24, Gesundbrunnen
Herr von Eden, Alte Schönhauser Straße 14, Mitte
---
---
Music
That bastard genre electro-swing, oh so popular in the early 2010s, has deservedly vanished into thin air. Nowadays, vintage sounds should be as authentic as possible. Record titles like Put the Jazz back in Jazz! by the Sazerac Swingers are evidence of that. The 14-musician orchestra Moka Efti, assembled for the show Babylon Berlin will play many gigs in 2020, both in and outside of Berlin. Berliners Savoy Satellites are a constant in the swing scene, while Swingspiration teach visitors the dance moves — which you can then try out to the sounds of your own phonograph, purchased at Grammophon-Salon-Schumacher at Nollendorfplatz. Second-hand record seller Platten-Pedro Patzek by Schloss Charlottenburg also delivers fitting gramophone records.
Addresses:
Swingspiration, Körtestraße 10, Kreuzberg
Grammophon-Salon-Schumacher, Eisenacher Straße 11, Schöneberg
Antiquariat Platten-Pedro Patzek, Tegeler Weg 100, Charlottenburg
---
---
The Cabaret Tour
Follow in the footsteps of Cabaret author Christopher Isherwood — literally. A walking tour across Schöneberg named 'The Cabaret Tour' takes visitors through the author's neighbourhood.
http://isherwoods-neighbourhood.com/
---
---
Translated by Aida Baghernejad
---
---
[smbtoolbar]