The days are long, the skies are blue and there's only one correct way to cook your food: outdoors, on a grill. While Berlin seems — in spirit, at least — the dream BBQ city, in reality it can be hard to find a spot where barbecuing is permitted that isn't a parched, overcrowded hellscape. But that's where we come in with our handy list of the best Grillplätze across Berlin — from the well known to the hidden gems.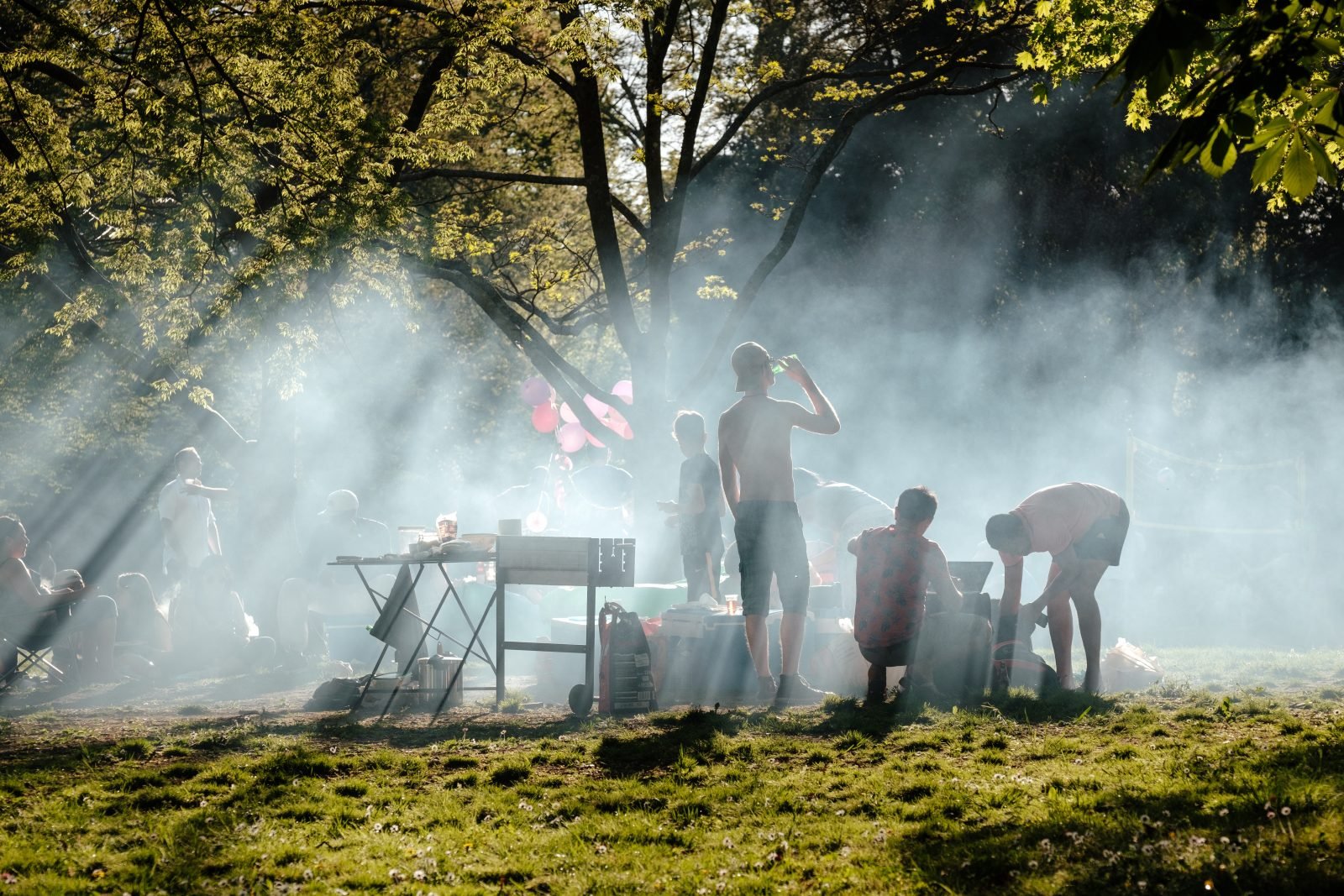 ---
Volkspark Friedrichshain
One of Berlin's oldest parks, built in 1846 in memory of Frederick the Great, has a small barbecue area on top of a little hill called the Bunkerberg. When you're done grilling, take a walk around the impressive fairytale fountain, rose garden, or the small lake. It's a family-friendly place with a pool, seven (seven!) playgrounds, a climbing fountain, bowling alley, an open-air cinema — and even a fenced area for dogs.
Volkspark Friedrichshain, 10249 Berlin
Opening hours: always
Toilets: available but with a fee
---
---
Landschaftspark Johannisthal / Ostfuge
What was once Berlin's first ever airport is now the perfect place to grill in peace. A charming alternative to the often crowded Tempelhofer Feld. Wild flowers, skating areas and sheep wandering the boardwalk make it worth the slightly longer journey.
Groß-Berliner Damm 1, 12487 Berlin-Treptow
Opening hours: always
---
---
Tempelhofer Feld
For some it's the largest wasteland in the world; for others it's Berlin's post-unification approach to life embodied in sprawling open space at the heart of the city. In total there are three legal barbecue areas — but naturally it would be more Berliner to grill somewhere illegally. One of the most beautiful things to experience on Tempelhofer Feld is the sunset that tints the Berlin skyline in magnificent colours. Besides the large green areas where you can play football or badminton, there's also a beer garden, an urban gardening project and a miniature golf course. The former airport, which was decomissioned in 2008, is, at 355 hectares, Berlin's largest city park— so it's pretty hard to miss.
Main entrance: Columbiadamm 124, 10965 Berlin
Opening hours: January/October/December: 7:30am-5pm | February/November: 7am-6pm | March: 6am-7pm | April/September: 6am-8.30pm | May/August: 6am-9.30pm | June/July: 6am-10.30pm
But if you're already on the field when it closes you're able — wardens permitting — to stay as long as you wish
Toilets: multiple for free
Goslarer Ufer in Charlottenburg
Another hidden gem in the middle of the city: the designated barbecue area near the Charlottenburg Canal and the old gas plant. The best thing about it? It almost never gets full. And if you're in the mood for some sightseeing after the barbecue, the picturesque palace garden is just around the corner and definitely worth a visit.
Goslarer Ufer, 10589 Berlin, Charlottenburg-Wilmersdorf
---
---
Görlitzer Park
If you don't mind lots of… people, Görlitzer Park is your BBQ destination. Frequented by a mixed crowd, it has two officially designated barbecue areas. If the sun shines there's a cute little children's farm, a skating area, a bike track, and, sometimes, Görli (as it's affectionately known), hosts open-air festivals. But what if it starts raining? No problem — the park provides plenty of great indoor options. There's a great cafe with a mini-golf course, a restaurant, and close by is the indoor swimming pool Spreewaldbad.
Görlitzer Straße 41, 10999 Berlin-Kreuzberg
Opening hours: always
---
---
Grillplatz An der Landmarke
Admittedly, the Hagenower Chaussee is pretty much the end of Berlin, but with its permanently installed grill in the middle of a beautiful blossoming orchard — plus an excellent adventure playground — this location is definitely worth your while.
Hagenower Ring 58, 13059 Berlin
Opening hours: always

Toilets: none nearby

Bonus tip! Best time to visit: spring, when the fruit trees blossom
---
---
Schlesischer Busch
Right between Schlesisches Tor and Elsenbrücke you can find this social hub. It's pretty much always full and there's always something happening. But this spot isn't only known for being a good place to grill: it's also a symbol of reunification. On one side there's an old GDR watchtower that once overlooked the wall — these days it hosts regular exhibitions.
Am Flutgraben 1, 12435 Berlin
Opening hours: always
Toilets: available nearby
---
---
Mauerpark
What used to be the 'death strip' along the former east-west border is now a place to meet on warm days to BBQ, make music and enjoy the sun. With the exception of a playground and a few wooded areas, you can grill anywhere in the park. If you fancy barbecuing in peace, the best time to go is in the week, because — thanks to open-air karaoke and a Sunday flea market — the place is heaving at the weekends. A great alternative is the nearby beach bar Schönwetter, where you can rent a barbecue, charcoal — and save yourself the effort of lugging the grill.
Bernauer Straße 47, 10437 Berlin-Prenzlauer Berg
Opening hours: always
Bonus BBQ spot: Schönwetter, Bernauer Straße 63
---
---
Fennpfuhlpark
What makes Fennphulpark a wonderful place in which to grill is the picturesque lake lined by weeping willows. It's a small green oasis with clean grass and calm, undisturbed stretches. After you're finished BBQing, take a walk around the lake, past some sculptures and a skate park with a half pipe, or rent a boat and enjoy the sun as you drift out across the water.
Anton-Saefkow-Platz 5, 10369 Berlin-Lichtenberg
Opening hours: always
---
---
Floating grill
If conventional grilling is too tame, why not gather a few friends and rent a barbecue boat? Imagine floating gently across the Havel or Wannsee as the sun sets… with added burgers. If you don't fancy bringing your own food, there's also a catering option. And the best thing about it? You don't need any boat-driving experience, as long as you're over the age of 18.
Havel
Pohlenseestraße, 13599 Berlin
Opening hours: daily, 10am-11pm
Tel: 017699535616 (7am-7pm)
Cost: Mon-Wed: €35-€45 an hour, Thu-Fri: €40-€50 an hour, Sat-Sun: €45-€55 an hour
Wannsee
Imchenallee, 14089 Berlin
Opening hours: 10am-10pm
Tel: 015731633808 or 03022050744
Cost: Mon-Thu: €35-€45, Fri-Sat: €45-€55, Sun + public holidays: €50-€45
---
Translated by Mia Kuch
---
---
[smbtoolbar]