Berlin's lidos are a beautiful and necessary thing: almost every district has an outdoor pool or lake to be utilised during the sweltering summer months. But not all lidos are equal: we've got the lowdown on the amenities you need, and where you should take your visiting friends to impress them with Berlin's summer charms.
---
---
Strandbad Jungfernheide
The idyllic family pool is located in the middle of Jungfernheide park and only ten minutes from Kurfürstendamm. And it's choc-full of highlights: due to regular maintenance with a dedicated sand-cleaning machine there's no fresher beach in Berlin. By now it's also possible to rent boards for stand-up paddling — trains balance, helps develop a six-pack, and is, most importantly, lots of fun. The non-swimmer area is large and boasts a small slide. If you're more into land-based sports, however, there are some volley ball courts, amongst others. A small snack bar offers wraps, chicken wings, and good coffee. If you're hungrier than that, the restaurant Teichterrasse is directly next door.
Address: Jungfernheideweg 60, Charlottenburg | daily 10am-7pm, sometimes longer, weather permitting, entry €6
Directions: U-Bahn station Siemensdamm
www.strandbad-jungfernheide.de
---
---
Wannsee
Strandbad Wannsee is possibly one of the largest lakeside lidos in Europe — and in Berlin it's obviously unmissable. Once you've stepped through the entrance building, you'll survey Wannsee from an elevated position, as well as the 80-metre-wide and 1km-long beach. Even when over 30,000 visitors come, as is very possible on really hot days, there's enough space between the beach towels. 260 wicker beach chairs also await being rented. And there's no shortage of sports and entertainment facilities: beach volley and football fields, as well as a slide, a diving platform, and a playground. Additionally, there's also boat hire for those who want to get a bit further away. The size of the place, however, is also the only downside — children sent to buy ice cream could quickly feel confused. But on the other hand the water's not too deep and ideal for non-swimmers.

Address: Wannseebadweg 25, Zehlendorf | daily 9am-8pm, €5.50
Directions: S-Bahn station Nikolassee
www.berlinerbaeder.de/baeder/strandbad-wannsee/
---
---
Strandbad Plötzensee
With its diverse offerings, Plötzensee lido is the perfect spot for large families. Children have lots of variety, while the grown-ups can properly relax.
Address: Nordufer 26, Wedding | daily 9am-10pm, €5,50
Directions: S-Bahn station Beusselstraße
www.berlinerbaeder.de/baeder/strandbad-ploetzensee/
---
---
Kinderbad Monbijou
Although slap bang in the middle of the city, the children's lido Monbijou is surprisingly calm. Ideal for a quick dip, but not really the place for a longer stay. For kids, however, it's a little slice of paradise — it's one of the few outdoor pools specifically designed for little people.
Address: Oranienburger Straße 78, Mitte | daily 11am-7pm
Directions: S-Bahn station Hackescher Markt
www.berlinerbaeder.de/baeder/kinderbad-monbijou/
---
---
Prinzenbad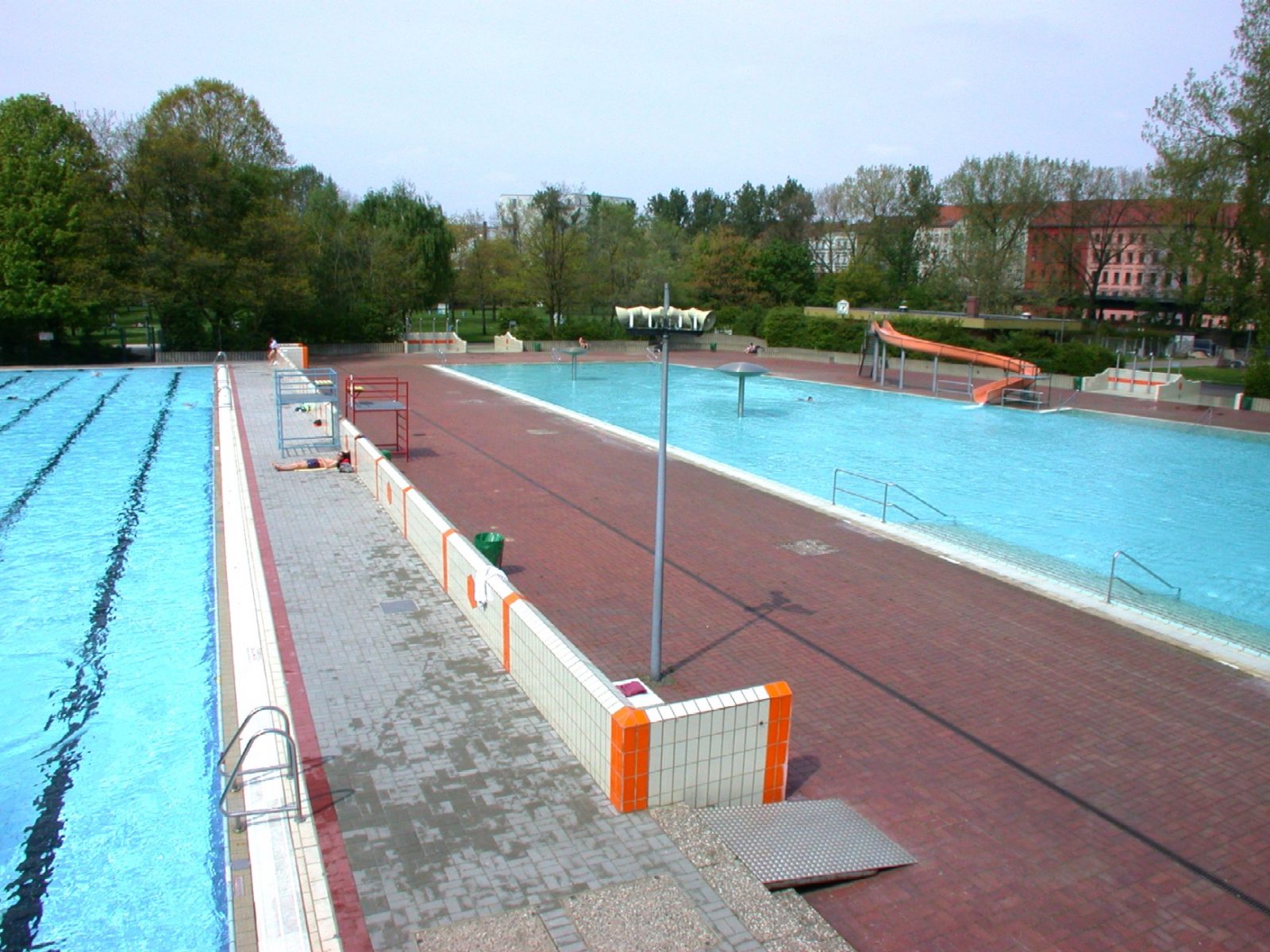 Prinzenbad, also known as Sommerbad Kreuzberg, offers much for children. No surprises, then, that it's one of the most popular lidos in town. This also means that during periods of exceptionally good weather the lido usually basically explodes with swimmers. If the pool is too full or the queue at the slide is too long, it's worth checking out the paddling pool and water playground with your children.
Address: Prinzenstraße 113-119, Kreuzberg | daily 7am–8pm
Directions: U-Bahn station Prinzenbad
www.berlinerbaeder.de/baeder/sommerbad-kreuzberg/
---
---
Badeschiff
You don't need to take a swim in the Spree. And you shouldn't, due to the river's pollution levels. Instead, the hip party scene frequents Badeschiff. Splash around in the small pool built into the river, or lounge on the deckchairs and sunbeds that are rarely vacant. Be warned: it's more a catwalk than anything else. And during scorching heatwaves you can experience how sardines feel in a tin. It's not really a location for children, non-swimmers aren't allowed in the water and older children can't romp around in the tiny pool. One of the more unusual lidos for sure.

Address: Eichenstraße 4, Treptow | daily from 8am, check website for opening times during events
Directions: U-Bahn station Schlesisches Tor
www.arena.berlin/veranstaltungsort/badeschiff/
---
---
Sommerbad Neukölln
For a spot on the lawn you need to get up very early, particularly at weekends. But it's worth it: the high-speed 83-metre slide is unbeatable. Adventurous types can scale diving platforms between one and ten metres high; sporty souls can swim to their hearts' content in the 50-metre lane. And for the tiniest visitors, there's a baby pool with a children's slide. Neukölln's lido has everything under one roof.
Address: Columbiadamm 160-190, Neukölln | daily 8am-8pm
Directions: U-Bahn station Boddinstraße
www.berlinerbaeder.de/baeder/sommerbad-neukoelln/
---
---
Sommerbad Olympiastadion
Ideal requirements for serious swimmers: a 50-metre pool, a diving platform with 1- and 3-metre springboards as well as 5-, 7.5-, and 10-metre platforms. Small swimmers delight in the two pools for non-swimmers with a children's slide and more. One of the most spectacular lidos in Berlin – and the most historical, of course!

Address: Olympischer Platz (eastern gate), Charlottenburg | daily 7am-8pm
Directions: U- and S-Bahn station Olympiastadion
www.berlinerbaeder.de/baeder/sommerbad-olympiastadion
---
---
Strandbad Orankesee
Address: Gertrudstraße 7, Hohenschönhausen | daily 9am-7pm
The beach lido at cute Alt-Hohenschönhausen is easy to reach with the M4 tram from Alexanderplatz. It's picturesque location by the small lake, surrounded by trees with a wide beach reminds us of family vacations by the sea. Just look at the cute changing cubicles painted in yellow and blue. It's comfortably calm here. And thanks to a playground, table tennis tables, and a volley ball field, it's very easy to pass time here. And you don't need to worry about sustenance either: the snack bar is cheap and sells everything a snack bar should sell. Think sausages, schnitzel sandwiches, coffee, drinks, and, of course, sweets. The coffee even tastes alright.

Directions: tram M4, 27
---
---
Strandbad Weissensee
Just a few metres from the tram tracks and the city, yet a different world: Strandbad Weißensee's sign greets its visitors with large white letters. Once you've passed the barrack-like building with considerable GDR charm, you'll reach the spot with a beach bar vibe. Palm trees in buckets and wicker chairs are supposed to generate a sort of Caribbean feel to the place, but we're also happy with Überseebar, the bar there, and the beer benches.
This is probably the lido most popular with small families, who also favour the lake for its playground with things to climb and much more. If something goes wrong during play, you can get your injuries checked by the beach doctor in the first aid area. A part of the beach and lake is dedicated to non-swimmers, and everyone else can paddle their heart out across the remaining 84,000 square metres of the lake.
Address: Berliner Allee 173, Weißensee | Mon-Thu 10am-10.30pm, Fri-Sun 10am-12am
Directions: tram M4, M13
---
---
Sommerbad Wuhlheide
A family-friendly pool with a large area for non-swimmers and a playground. If you can swim, take a lap or two around the 25-metre pool, or whizz down the popular water slide. And there's plenty of shade: lots of green grows around both pools. Afterwards take a ride on the old-school GDR park train at Wuhlheide!

Address: Treskowallee 211, Köpenick
Directions: S-Bahn station Karlshorst
www.berlinerbaeder.de/baeder/sommerbad-wuhlheide
---
---
Sommerbad Pankow
The highlight of this lido is the high-speed slide, without doubt. Or maybe the flow channel. After you've worn yourself out in the water, play football on the lawn or grab ice cream at the kiosk. And for those who are keen on learning to fly: there's a 5- and 7.5-metre high diving platform. If that's a bit much: there's a trampoline on the lawn, too.
Address: Wolfshagener Straße 91-93, Pankow | daily 8am-8pm
Directions: S- and U-Bahn station Pankow
www.berlinerbaeder.de/baeder/sommerbad-pankow
---
---
Freibad Lübars
This lake is basically a relic from an industrial past. Ziegeleisee used to be a clay mine, with the name referring to brick making. In the 1910s it filled up with subterranean water; today a 20-metre-wide beach lines the shore. White beach chairs, the traditional covered German kind, are scattered all over, there's little reed islands behind tall shrubs, the water is clear, and coots paddle across the water.
A bit further back lies a big lawn for sun seekers, children, and youth. Old majestic trees cast shade… What a respite from stressful city life. Even the loos have a bit of old-Berlin charm. And obviously the restaurant, too, serving rustic German cuisine, in a white and brown traditional timber building. But don't worry — there is also a diving platform, a beach volley field, and water slides to be found. And a wooden shack by the beach serves cocktails — children's cocktails without the alcohol, too — beer, waffles, and more.

Address: Am Freibad 9, Reinickendorf | daily 9am-9pm
Directions: S-Bahn station Waidmannslust
---
---
Translated by Aida Baghernejad
---
---
[smbtoolbar]