Berlin might have a reputation for being 'poor but sexy', but it has no shortage of beautifully-designed boutique hotels from which which to take in this inimitable city. From Michelin-starred restaurants to rooftop cocktail bars, art nouveau suites to luxe rooms overlooking Brandenburg Gate, there's plenty to please those seeking that extra something from their holiday.
Not sure where to start? Let tip Berlin — the city's oldest and biggest city magazine — lead you through the 10 best boutique hotels in Berlin. All handpicked by a team who know the city best.
---
---
1. Hotel Lux 11
Mitte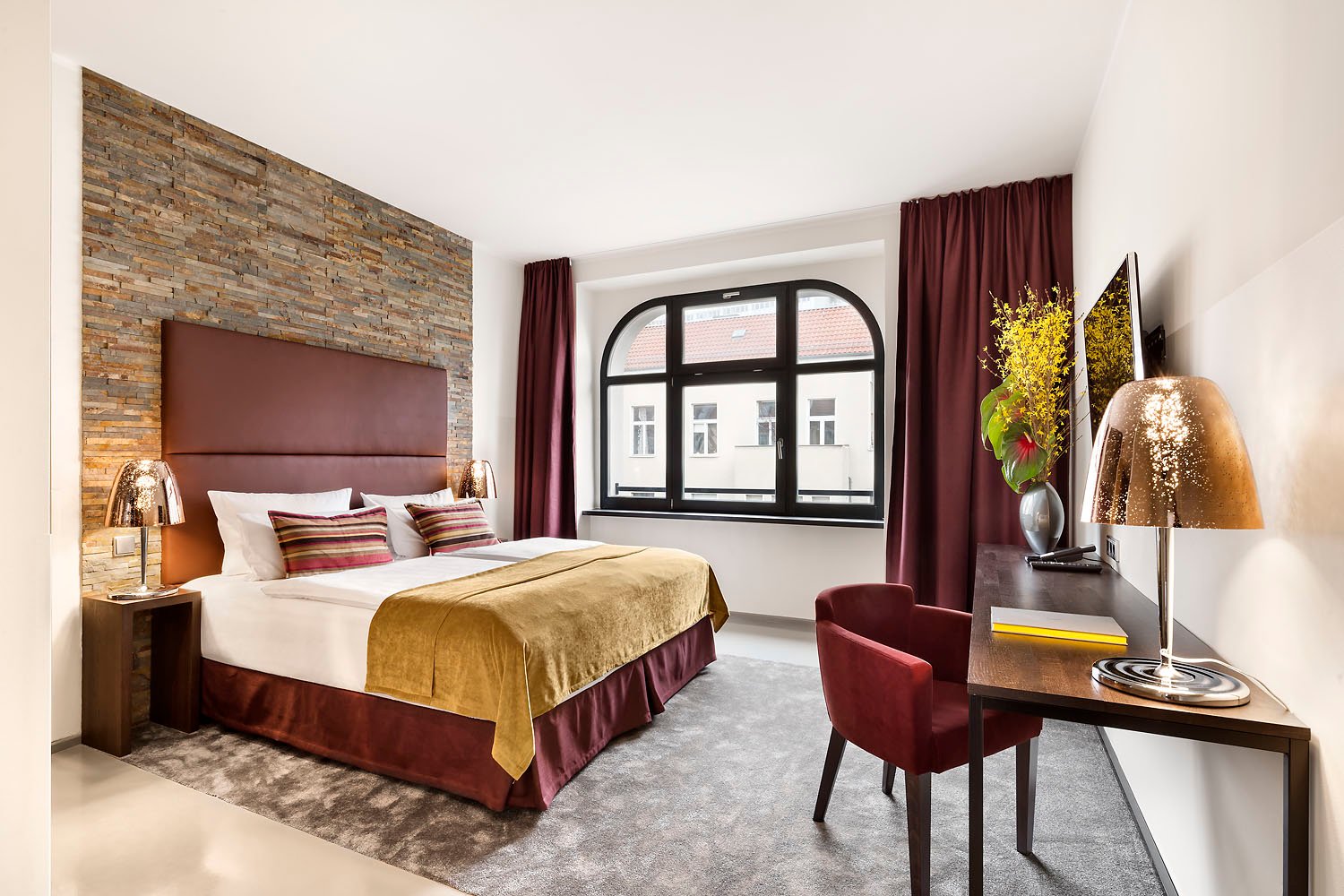 In 2005, a former military hospital later used by the Russian secret service was turned into a luxury hotel with chic apartments. Private balconies, luxuriously furnished rooms and a modern fitness area make the Lux 11 a top pick for those seeking stylish accommodation in Berlin. The location — right next to Alexanderplatz and the famous Berlin TV tower — allows easy access to Berlin's day and night life.
Rooms from €139
---
2. Hotel Oderberger
Prenzlauer Berg
A hotel located in a majestic city swimming pool? Yes please. The Oderberg Volksbadeanstalt, which opened more than a hundred years ago, was closed for a long time, only reopening in 2016 — with a boutique hotel within its walls. The Oderberger has over 70 chic furnished rooms, and its guests can relax in the pool and sauna at a special price after long days taking in the sights of Berlin. There's also a fireside bar and accompanying restaurant with vegetarian and regional dishes.
Rooms from €109
---
3. Hotel Adlon Kempinski
Mitte
The Hotel Adlon is steeped in myth: Wilhelm II spent time here, while Charlie Chaplin allegedly lost a trouser button on his way to the hotel. The Adlon is one of the most famous and luxurious five-star hotels in Germany, reopening in 1997 after it burned down in 1945 at its iconic location right next to Brandenburg Gate. The rooms are furnished with stately extravagance, and the restaurant has been awarded two Michelin stars. Tourist spots Checkpoint Charlie and the powerful Holocaust Memorial are within easy walking distance, and the large spa promises complete relaxation.
Rooms from €243
---
4. Hotel Art Nouveau
Charlottenburg-Wilmersdorf
Stylish, cosy and with easy charm, Hotel Art Nouveau is a designed to make you feel good. The art nouveau building still has a few original details to admire, but otherwise the look is modern — with a touch of 1960s chic. The in-house bar offers selected wines, and after a glass on the roof terrace, guests can enjoy Charlottenburg's rich cultural offerings: the Berlin Schaubühne, several arthouse cinemas, and photo gallery C/O Berlin are just around the corner and definitely worth a detour.
Rooms from €69
---
5. Linnen
Prenzlauer Berg
Comfort and elegance go hand in hand at Linnen. The rustic hotel is located in the middle of the hip district of Prenzlauer Berg close to Mauerpark, a green space beloved by both locals and tourists for its flea market and surrounded by cafés and bars. In the unique and comfortably furnished rooms, guests will feel like real Berliners — and the varied breakfast buffet is a feast for vegans, too.
Rooms from €99 (low season)
---
6. 25hours Hotel Bikini Berlin
Charlottenburg-Wilmersdorf
Urban meets jungle at 25hours Hotel Bikini Berlin. The slick, modern hotel offers panoramic views over Kurfürstendamm, Kaiser Wilhelm Memorial Church, numerous designer shops and the sprawling green of Berlin Zoo with its collection of exotic animals from all over the world. The suites are furnished with innovative flair, with each adapted to its respective viewing direction. Between the 'Jungle Sauna' fitness studio, the in-house bar and the restaurant serving dishes inspired by European and Middle Eastern cuisine, visitors will find pretty much everything their heart desires — and just outside, the big city is waiting to be discovered.
Rooms from €126
---
7. SO/ Berlin Das Stue
Mitte
From the rooms of this five-star hotel, guests have a direct view of the quiet green expanse of Tiergarten. The halls of the historic building house an array of exotic sculptures — including a formidable bronze crocodile head — while there's a sumptuous spa area and Michelin-starred restaurant for gourmets. Modern, luxurious and with its own unique style, SO/ Berlin Das Stue attracts guests from all over the world. Visitors can also enjoy its relatively peaceful location, close to the Zoo and Victory Column.
Rooms from €196
---
8. Hotel Zoo Berlin
Charlottenburg-Wilmersdorf
From the 1920s onwards, Hotel Zoo was the place to go for film stars such as Romy Schneider and Marlene Dietrich — and has long since established itself as one of the finest boutique hotel in Berlin. The impressive rooms with grand wooden doors and magnificent chandeliers let visitors travel back in time. Located directly on the legendary Kurfürstendamm, the hotel is surrounded by history and numerous shopping opportunities. From the roof terrace, however, the hustle and bustle of the city seems far away and as you kick back with a cocktail or two.
Rooms from €223
---
9. Orania Berlin
Kreuzberg
A large, bright old building houses the Orania Hotel at Oranienplatz in Kreuzberg — and with it a restaurant, bar and gym. Small concerts are regularly held here, too. The rooms, with their large windows, are bright and homely — and in many corners you'll spot some elephant motifs. Those who leave the building — despite its comprehensive offerings — will land directly in lively Kreuzberg, and from there easily take in Berlin's diverse city life with its festivals, clubs and cafés. Three excellent cultural institutions — Gropius Bau, Berlinische Galerie and the Technikmuseum —are also within walking distance.
Rooms from €170
---
10. Sir Savigny Hotel
Charlottenburg-Wilmersdorf
The area around the Sir Savigny is a treasure trove for culture fans: photography exhibitions, theatres, arthouse cinemas and literary sites are all in the immediate vicinity of the beautiful Savignyplatz. Even better, the area also has lots to offer in terms of culinary delights. The hotel itself enchants guests with its cosy rooms, chic vintage design and in-house burger bar The Butcher.
Rooms from €158
---
---
[smbtoolbar]