If you've chosen to make Berlin your home, there's a fair chance your parents will have spent a sleepless night or two at the thought of their baby adrift in the capital of Nazis, spies and techno. Not surprisingly given Berlin's rapid evolution over the last couple of decades, there tend to be some generational preconceptions that are best laid to rest (or, sometimes, affirmed) when the oldsters see the city for themselves.
Of course not all the things that made you fall in love with the place will be their cup of tea. Berghain, for example. Or drinking on the U-Bahn. But with such an array of humbling historical landmarks, cutting-edge cultural gems and beautiful green spaces, they've really no choice but to love their progeny's adopted Hauptstadt.
That said, coming up with a parent-friendly tourist schedule can be a daunting challenge – which is why we've compiled a helpful list of activities you can enjoy together. Awww. Here's what to do when your parents visit Berlin.
1 Glienicker Brücke – Bridge of Spies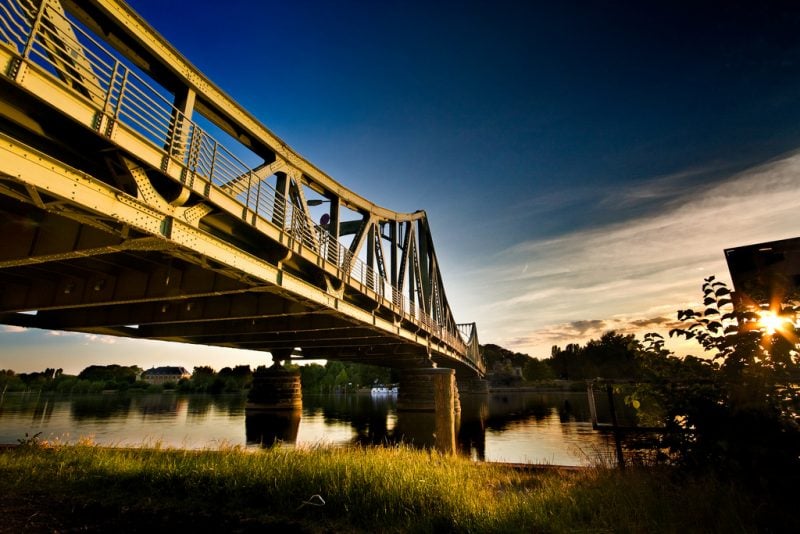 Parents love history, right? And they love spy stuff. Glienicke Bridge over the River Havel to the southwest of the city formed the border between West Berlin and East Germany during the Cold War. It was here that spies were exchanged at the tense frontier immortalised in numerous films, books and TV series, making it a great spot for a historic stroll with visitors. It's also most of the way to Berlin's charming outlier city, Potsdam, with its parent-suitable palaces and well-manicured gardens if you're in the market for a full day trip.
For more spy-themed activities, there's the chilling Stasi prison up in Hohenschönhausen and the former Stasi headquarters, now a museum, in Lichtenberg for some deeply unsettling Soviet interior design.
Glienicker Brücke, Königstraße, 14109 Berlin | Map
---
2 Berlin bridge boat tour
What better way to see the city with your folks than from the comfort of a boat? With Berlin's maze of rivers and canals passing conveniently close to its most notable landmarks, it's an excellent way to soak up the sights — particularly if anyone is weary on their legs. With more bridges than venice, or so they say, it's also a gentle way for Berlin to reveal its lesser-known charms to a new audience.
Berlin City Tours offer a 32-bridge route taking in the River Spree's must-sees — Museum Island, TV tower, Reichstag — as well as Landwehrkanal's quiet, leafy banks on which hip locals lounge.
The Berlin Bridge Boat Tour starts from Charlottenburger Ufer 1, 10587 Berlin |
More info | Map
---
3 Pfaueninsel – Peacock Island
If anyone ever tells you they don't like peacocks and castles, they're lying. Everyone likes peacocks and castles. Which is why a trip to Pfaueninsel, or 'Peacock Island' should definitely be on the cards when distinguished guests are in town. Nestled in Berlin's lake-jeweled outskirts, this little island boasts a history rich in bronze-age artefacts and wayward Prussian kings and was designated a UNESCO World Heritage Site in 1990.
It's also an ornithological dream for those so inclined, home to an array of exotic birds and some surly free-ranging peacocks — not to mention a fairytale-cute castle.
To get there, take the S-Bahn to Wannsee then a short bus and ferry ride to the island. The ferry runs daily all year round, though times vary seasonally. More info | Map
---
4 The Wall – East Side Gallery + Bernauer Straße
No parental tourist schedule would be complete without a trip to the city's iconic wall. Join the Instagramming throngs for a riverside stroll along Friedrichshain's East Side Gallery — a surviving stretch of mural-covered wall which is now the world's longest open-air gallery.
For a quieter and more reflective experience, head to Bernauer Straße — the only place the border strip remains in its original form and depth, which provides a sobering glimpse of just how imposing it was as a barrier across the city.
East Side Gallery, Mühlenstraße 3-100, 10243 Berlin More info | Map
Bernauer Straße 111, 13355 Berlin More info | Map
---
5 Food of peace – Kanaan Restaurant 
Thankfully, Berlin trips aren't just about grim historical monuments. Take a break from the weighty stuff with a visit to one of the city's most heartwarming culinary projects — an acclaimed vegetarian restaurant run by an Israeli-Palestinian duo showcasing a fresh take on the foods that shaped them. Not only do they serve exceptional hummus, falafel and cardamom-laced coffee, they make it their policy to employ refugees from the Middle East and Africa and provide an LGBT-friendly space.
Whatever their formula, it's clearly working. In addition to their flagship Prenzlauer Berg eatery, the boys now run a second branch in Berlin's illustrious department store KaDeWe — so break up the fancy shopping with a vibrant Middle Eastern platter.
Kanaan Prenzlauer Berg | Kopenhagener Str. 17, 10437 Berlin | Tue 5-10pm | Wed-Fri 12-10pm | Sat+Sun 10am-10pm | More info | Map
Kanaan KaDeWe | Tauentzienstraße 21-24, 10789 Berlin | Mon-Sat 12-8pm | More info | Map
---
6 Soviet War Memorial + Treptower Park
Back to history. The Soviet memorial to its war dead in Treptower Park is a true sight to behold and a must-see for all visiting friends, relatives and lovers. Anyone keen to grasp the magnitude of loss suffered during the liberation of Berlin should take a slow walk around the 16 sarcophagi overlooked by a 12-metre tall bronze soldier, sword resting on a crushed swastika. More than 7000 souls are laid to rest here, guarded at the entrance by twin granite monoliths which leave you in no doubt of the military might they represent.
As ever in Berlin, the accompanying tourist information is impressively matter-of-fact and enlightening, so you'll all leave with a lot to think about.
Soviet War Memorial, Treptower Park, Puschkinallee, 12435 Berlin | More info | Map
---
7 Berlin Philharmonic Orchestra
Next stop, sitting down to enjoy the sounds of one of the world's finest orchestras. Founded in 1882, the Berliner Philharmoniker is based in an incredible modernist performance hall that somehow resembles an intergalactic beehive. The faceted interior is all golds, uplighting and warm wooden tones, providing a positively celestial setting in which to enjoy some fine orchestral performances.
With Daniel Barenboim and Sir Simon Rattle regulars on stage here, there's plenty of illustrious buzz for Ma and Pa to enjoy. There's even a free lunchtime concert every Tuesday — in the expansive foyer rather than the hall itself — if you fancy popping in for an hour to break up the sightseeing.
Berliner Philharmonie, Herbert-von-Karajan-Straße 1, 10785 Berlin | More info | Map
---
8 Traditional German food – Max und Moritz
There's no way you'll get away with not taking your oldies to a trad German restaurant — even if you've literally never been in one. It's not that you don't want to eat at such places in your everyday life, it's just there are so many quick, cheap and slightly more exotic bites to be had on every corner that it never seems to…happen. Which is silly. So treat your whole party to a novel gastronomic experience at Max und Moritz, a 117-year-old Kreuzberg institution still serving pork knuckle, schnitzel and apple strudel like it's 1902.
Candlelight and original Art Nouveau details add to the vintage ambience, so your parents will leave satisfied they've experienced the real deal.
Max und Moritz, Oranienstraße 162 10969 Berlin | Open daily from 5pm | Reserve at table: 030 695 15 911 | More info | Map
---
9 Flea market and gallery hopping
As well as the usual tourist sights, your folks are sure to want to experience Berlin life through your eyes — well, some of it at least. And what could be more Berlin than a Sunday potter round some flea markets and galleries? If you're keen to keep it central and combine with the big landmarks, a good starting point would be the weekend markets opposite Museum Island on the banks of the Spree. The Antique & Book Market at the Bode Museum is bursting with knick-knacks from crockery, toys and records to rare books and collectibles. A few minutes' walk along the river is the Berlin Art Market for mum-friendly crafts, illustrations, photography, prints and paintings.
Once you're stocked up with tat, head for a mosey to the city's best gallery hubs at Potsdamer Straße (Blain|Southern, Esther Schipper), Auguststraße (KW Institute for Contemporary Art, Michael Fuchs Galerie) or Karl-Marx-Allee (Peres Projects, Galerie Kuchling).
Antique & Book Market at Bode Museum, Am Kupfergraben 10117 Berlin | Sat+Sun 11am-5pm | More info | Map
Art Market at Zeughaus | Am Zeughaus 1-2, 10117 Berlin | Sat+Sun 11am-5pm | More info | Map
---
10 Above and below – underground tour and Reichstag Dome
With 20th-century scars etched so visibly across the city, it's easy to forget that there's a whole other dimension to Berlin history under the surface. Quite literally. When you think about it, it's not surprising that a city that withstood Nazi rule, Allied bombs, Stasi paranoia and Cold War brinkmanship is riddled with underground bunkers, escape tunnels and wartime debris. Berliner Unterwelten runs regular tours from Gesundbrunnen, taking in the last remaining Flak tower and a veritable labyrinth of subterranean history parents will love.
Once you've blinked your way back into daylight, head to Norman Foster's iconic Reichstag dome for views above the city and an audio tour at the heart of German parliament.
Berliner Unterwelten, meeting point + tickets for all tours: Brunnenstraße 105 13355 Berlin | More info | Map
Reichstag, Platz der Republik 1, 11011 Berlin | All tours must be booked online in advance | More info | Map
---
11 Grunewald walk + Grunewaldturm restaurant
It is a truth universally acknowledged that the older you get, the more you like walks in the countryside. It follows, then, that visiting parents will be pleasantly surprised by the array of green spaces Berlin has to offer, both within and just outside the city. If your folks are active, walk-y types, it's well worth a trip to Grunewald and its 3,000 hectares of forest through which a network of leafy paths wind.
For the extra-intrepid there's the former US listening station perched atop Teufelsberg, a hill built entirely from WWII rubble. Less intrepid but extremely pleasant in summer is Restaurant Grunewaldturm's beer garden with its deckchairs and grassy slopes overlooking the glinting Havel. Treat your folks to some proper German hefeweizen and all will be right with the world.
Grunewald is accessible on foot from S Bahn station Grunewald.
Restaurant Grunewaldturm, Havelchaussee 61, 14193 Berlin | More info | Map
---
[smbtoolbar]