Neukölln and Kreuzberg. The two coolest Berlin boroughs are bursting with decent, diverse food options thanks to their established immigrant communities and embrace of the new. But with so many eateries to choose from, things can get a little overwhelming — not to mention expensive.
Thankfully, our Neukölln-born intern Mia Kuch knows her budget neighbourhood eats. She knows where to go when money is tight but taste is everything. So, here's her handy guide to Neukölln and Kreuzberg's best cheap food spots, to fill your belly and save your wallet.
Bonus tip! All Mia's picks offer decent vegetarian options, which is something she's alway looking out for.
---
1. Baraka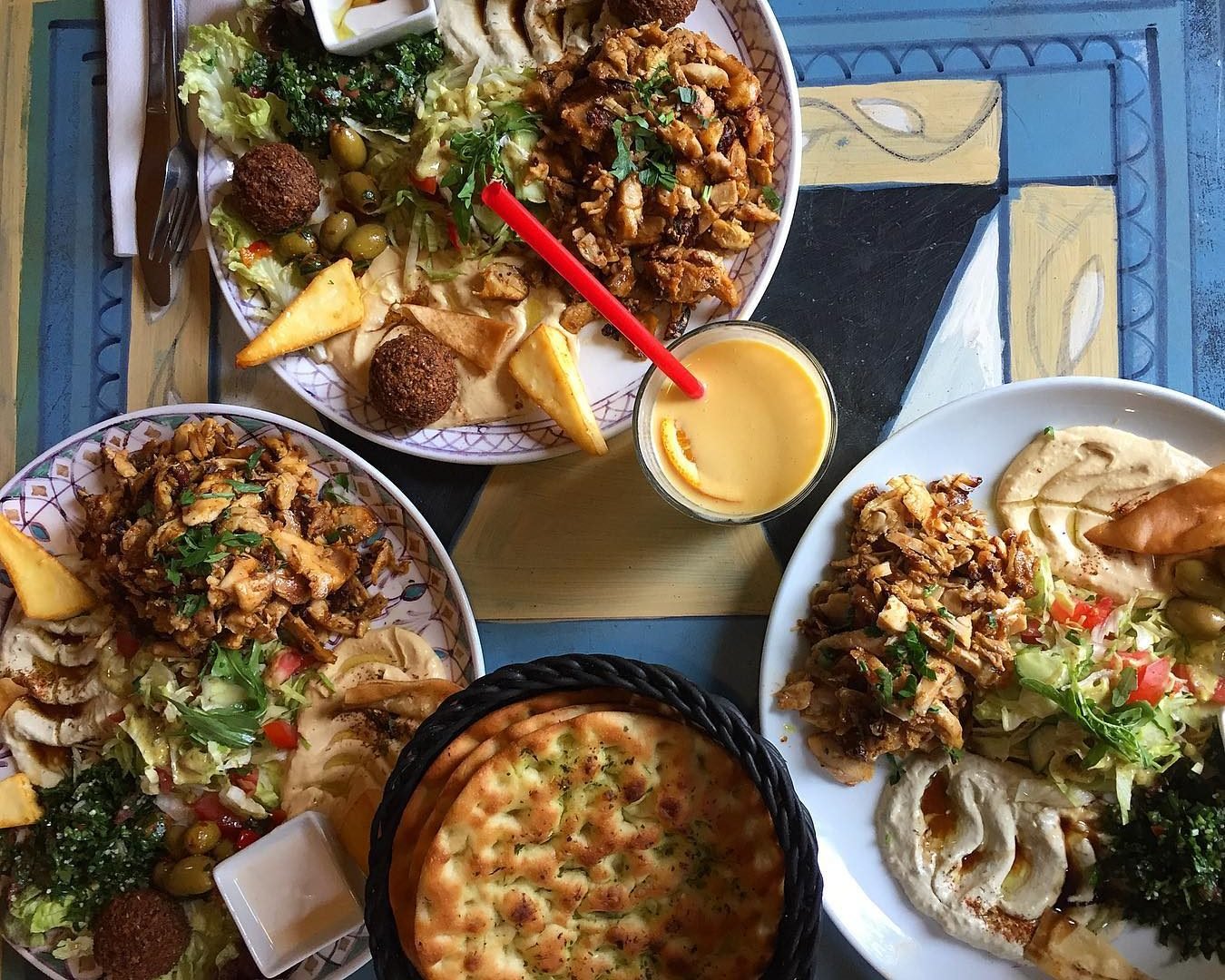 This authentic Moroccan restaurant makes you feel right at home with pillows on the floor, beautiful interior design, friendly service and free black tea. Even if you just take something to go they'll offer you a tea while you wait for your food. And it's a given that after your 3rd visit, you'll be on first-name terms with the waiter. We love going with friends and ordering a giant platter will little portions of everything to share.
Our tip: A large platter with a little bit of everything
Address: Lausitzer Platz 6, 10997 Kreuzberg | Sun-Thu 11am-12am, Fri-Sat 11am-1am
https://restaurantbaraka.eatbu.com
---
---
2. Cigköftem
This minimalist vegan/vegetarian Turkish fast food joint specialises in an animal-friendly version of raw-meat patties. Made from wheat, tomato paste, ground chilli peppers and 18 different spices, you can eat it in a wrap, burger or little bite-size nuggets topped with vegetables and fresh mint. But this snack is not for the faint of heart. There are only two spice options: hot or very hot. In fact, their slogan is 'The tastiest spiciness'. You have been warned.
Our tip: The Burger for only €3
Address: Karl-Marx-Str. 75, 12043 Neukölln | Daily 10am-11:45pm
Contact: 0176 19801980
---
---
3. Hackbert Burger
This hidden gem makes some of the best burgers in all Berlin. As well as the usual options, they also offer a 'Burger of the Season' with fresh, seasonal vegetables and — rather unusually for a burger restaurant — some decent vegetarian choices. But it's the meat that makes these burgers great. The animals grow up free range close to Berlin, and Hackbert freshly grinds the meat each day, which has a hugely positive impact on the taste.
Our tip: The Grünkernburger, with extra braised onions on top
Address: Richardstr. 108, 12043 Neukölln | Tue-Wed 5pm-10pm, Thu-Fri 1pm-10pm, Sat-Sun 2pm-10pm
www.facebook.com/HackbertBerlin
---
---
4. Hamy
If you've spent much time in Kreuzberg, you'll know about Hamy, the Vietnamese restaurant near Hermannplatz. They're famous for taking no longer than five minutes, no matter how many people, to serve you a fresh and tasty meal. And here's their secret: they only offer a couple of classic dishes, so they're able to prepare them perfectly in next to no time. And if you're vegetarian — don't worry! All their dishes can be made meat free.
Our tip: The main daily special is always a good shout, plus a melon shake
Address: Hasenheide 10, 10967 Kreuzberg | 12pm-12am
---
---
5. Musashi
This tiny restaurant makes very tasty and affordable sushi. Due to its canal-side location, it's also the perfect place from which to grab a quick takeaway meal and head to the water. As well as the usual fish options, they also offer a nice range of vegetarian picks. And if you're feeling thirsty, the green tea is the thing you should try — it comes with a pleasing aftertaste of roasted popcorn.
Our tip: Avocado-cream-cheese-sesame roll and a green tea
Address: Kottbusser Damm 102, 10967 Kreuzberg | Mon-Sat 12pm-10.30pm, Sun 2pm-10pm
https://www.facebook.com/pages/Musashi/109466719115663
---
---
6. Nini e Pettirosso
Close to beautiful Körnerpark you'll find this mouth-watering pizza spot. With an assortment of meaty, vegetarian and vegan options, they have something for everyone. And if you can't decide what to choose, this is the place for you! Opt for a pizza slice, or indeed a selection of pizza slices, instead of an entire pizza. They also serve up wholesome pasta and decent coffee, and the tiramisu in a tumbler with a tea spoon dunked in the top is divine.
Our tip: Try every pizza, they're all pretty good.
Address: Selkestraße 27, 12051 Neukölln | Mon-Sat 10am-12am, Sun 10am-10pm
Contact: 030 68813061
---
---
7. Que Pasa
Need a relaxing place to end the day with some friends and affordable cocktails? Que Pasa is your vibe. Every cocktail is only €4, and there are over 50 options to choose from. Holy moly. And if you're after some food to complement your drinking, a plate of cheesy nachos will seal the deal!
Our tip: Nachos with cheese, plus extra guacamole
Address: Zossener Str. 27, 10961 Kreuzberg | Mon-Thu 11am-1am, Fri-Sat 12pm-2am, Sun 10am-1am
---
---
8. Sahara Imbiss
This vegetarian Sudanese chain produces super-fresh, tasty portions of falafel, halloumi and makali and the like for under €5. The legendary house-made peanut sauce that they generously slather on all their meals just makes it even more perfect. And speaking from experience, they will still remember you after five years.
Our tip: A halloumi sandwich — with extra peanut sauce
Address: Reuterstraße 56, 12047 Neukölln | Sun-Wed 12pm-12am, Thu 12pm-1am, Fri-Sat 12pm-2.30am
Contact: www.saharaimbiss.de
---
---
9. Shaam Restaurant
Right after you've picked from the many options they have on their menu, they ply you with one of their delicious ring-shaped falafels dunked in hummus to munch on while you wait. It doesn't matter if you're there every week or for the first time. But its the dips and sauces that go with every meal make it so great, not to mention the famed Syrian-style shawarma.
Our tip: The falafel and halloumi plate
Address: Karl-Marx-Straße 177, 12043 Neukölln | Daily 10.30am-1am
---
---
10. Sushi Cube
This place is perfect for those of us who love sushi but don't always have the money to afford it. This place is delicious — and a complete steal. You'll need around €10 to eat enough to feel full. The only downside is that it's pretty small, so if you want one of the VIP seats outside, don't visit too late.
Our tip: The vegetarian baked rolls (soo warm and crunchy)
Address: Zossener Str. 18, 10961 Kreuzberg | Daily 12pm-11:30pm
Contact: 030 81797969
---
---
11. Tutti Island
This small Sudanese vegetarian and vegan imbiss is easy to overlook. But don't judge the place by its appearance: the food is delicious! And they serve everything with their own personal spin. Perfectly-fried falafel, halloumi, carrots, potatoes and aubergine paired with a delicious peanut-y sauce. Definitely worth a visit.
Our tip: A vegetable plate with halloumi
Address: Zossener Str. 17, 10961 Kreuzberg | 11am-11pm
Contact: 030 52661490
---
---
[smbtoolbar]