Weekends, sunny evenings or days off work are always worth a celebration. And what feels fancier and more celebratory than dining outside? Luckily, Berlin is a dream summer city with its leafy streets and leisurely pace — plus plenty of excellent restaurants with beautiful terraces from which to watch the world go by. Here are our favourites.
---
---
Ankerklause
A quayside bar, but without the quay. This is the triumph of imagination over reality and the perfect start to a night out in Kreuzberg or Neukölln. Order a Bulette with potato salad and beer. And enjoy the fact that there are still food spots free from the chia-seed-craft beer-avocado hype in this part of town.
Address: Kottbusser Damm 104, Neukölln | Tue-Sun 10am-3am, Mon 4pm-3am
Directions: U-Bahn station Schönleinstraße
---
---
Katerschmaus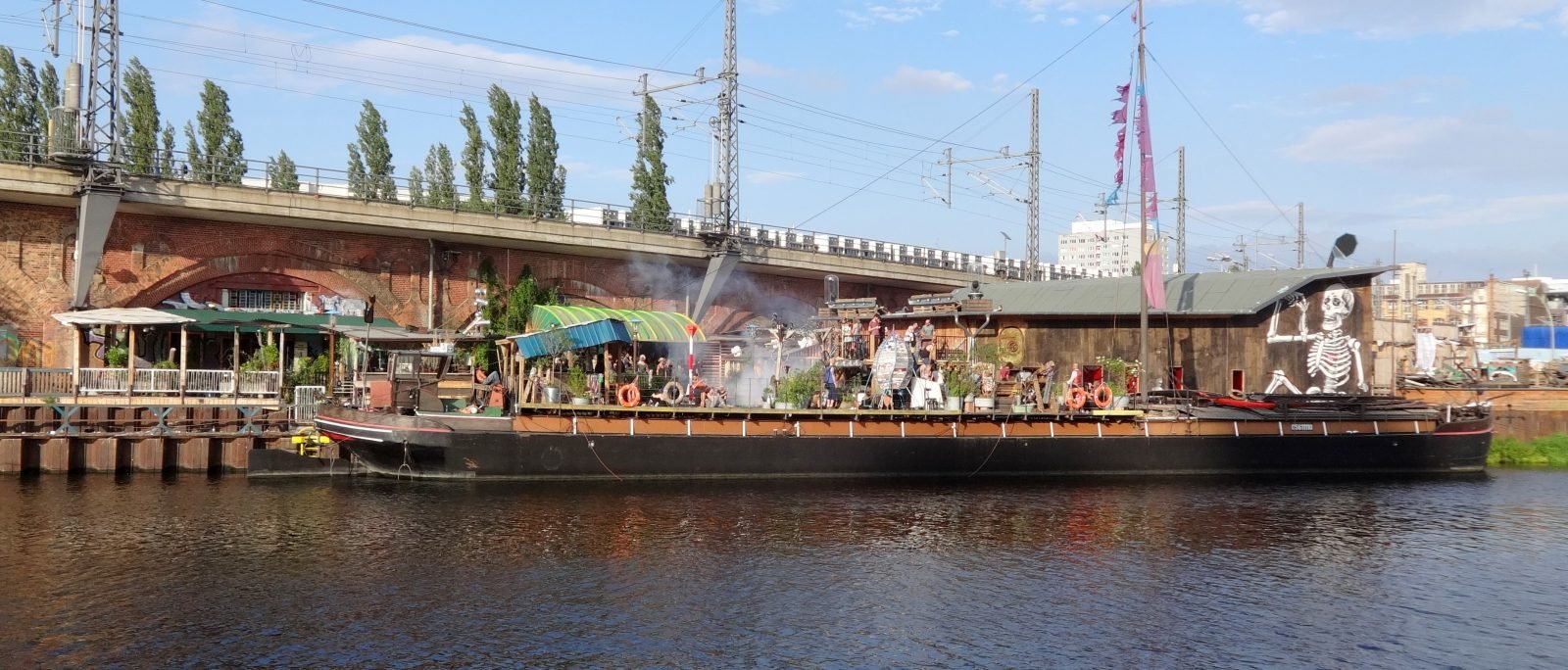 Berlin by the sea. That would be something. But at Katerschmaus — the restaurant of iconic club Kater Blau — there's a cinematic view of the Spree that feels pretty nautical. Nonchalantly staged yet ambitious cuisine with regional products.
Address: Holzmarktstraße 25, Friedrichshain | Mon-Sat 12pm-4pm, 7pm-10.30pm
Directions: S-Bahn station Ostbahnhof
---
---
Rio Grande
The Schnitzel here is as wonderfully wavy as the Spree flowing past the window or the terrace. Despite the highly touristy location across from East Side Gallery, Rio grande comes as a real recommendation. Their lunch, in particular.
Address: May-Ayim-Ufer 9, Kreuzberg | Daily 10am-1am
Directions: U-Bahn station Schlesisches Tor
---
---
Wirtshaus Moorlake
Let's be honest, most restaurants catering to day trippers aren't really a revelation. But the kitchen at Moorlake is respect-worthy and characterised by the tastes and aromas of family celebrations. In the best possible way. The view from the beer garden of this historical forester's lodge close to Glienicker Brücke is worth the trip alone.
Directions: S-Bahn station Wannsee, followed by bus 218 to Pfaueninsel
---
---
Restaurantschiff Capt'n Schillow
The cute cutter on Landwehrkanal is the city's best location if you crave proper Labskaus, a Northern German speciality with corned beef, potatoes, onions, egg, beetroot, and pickled gherkin. Don't knock it 'til you try it!
Address: Straße des 17. Juni 113, Charlottenburg | Mon, Wed-Fri 11am-12am, Sat+Sun 10am-12am
Directions: S-Bahn station Tiergarten
---
---
Milchbar at Funkhaus
The team behind Schneeweiß in Friedrichshain, a haven for fans of Austrian cuisine, have been running Milchbar at Funkhaus for more than three years now. Inside ostalgie, outside beautiful Spree views. And a perfect Viennese Schnitzel for an unbeatable price — at during the week when Milchbar is first and foremost a canteen for the creatives working at Funkhaus.
Address: Nalepastraße 18, Oberschöneweide
Directions: tram 21
http://www.funkhaus-berlin.net/p/milchbar.html
---
---
Picnic Berlin
If it's too much effort to pack your own provisions, fret not! Picnic Berlin is there to help. They offer pre-packaged picnic baskets for a lazy day on Tempelhofer Feld. Oh, and they'll also deliver to your dream location on the green.
Address: Tempelhofer Feld, entrance Oderstraße, in the striped hut in front of house number 22
Directions: U-Bahn station Leinestraße
---
---
Söhnel Werft
Among the popular destinations for day trip to the Southwest of Berlin, this is definitely one of our top picks. We love the beer garden.
Address: Neue Kreisstraße 50, Zehlendorf | Wed-Sun 10am-6pm
Directions: S-Bahn station Wannsee, followed by bus 218 to Neue Kreisstraße
---
---
Hafenküche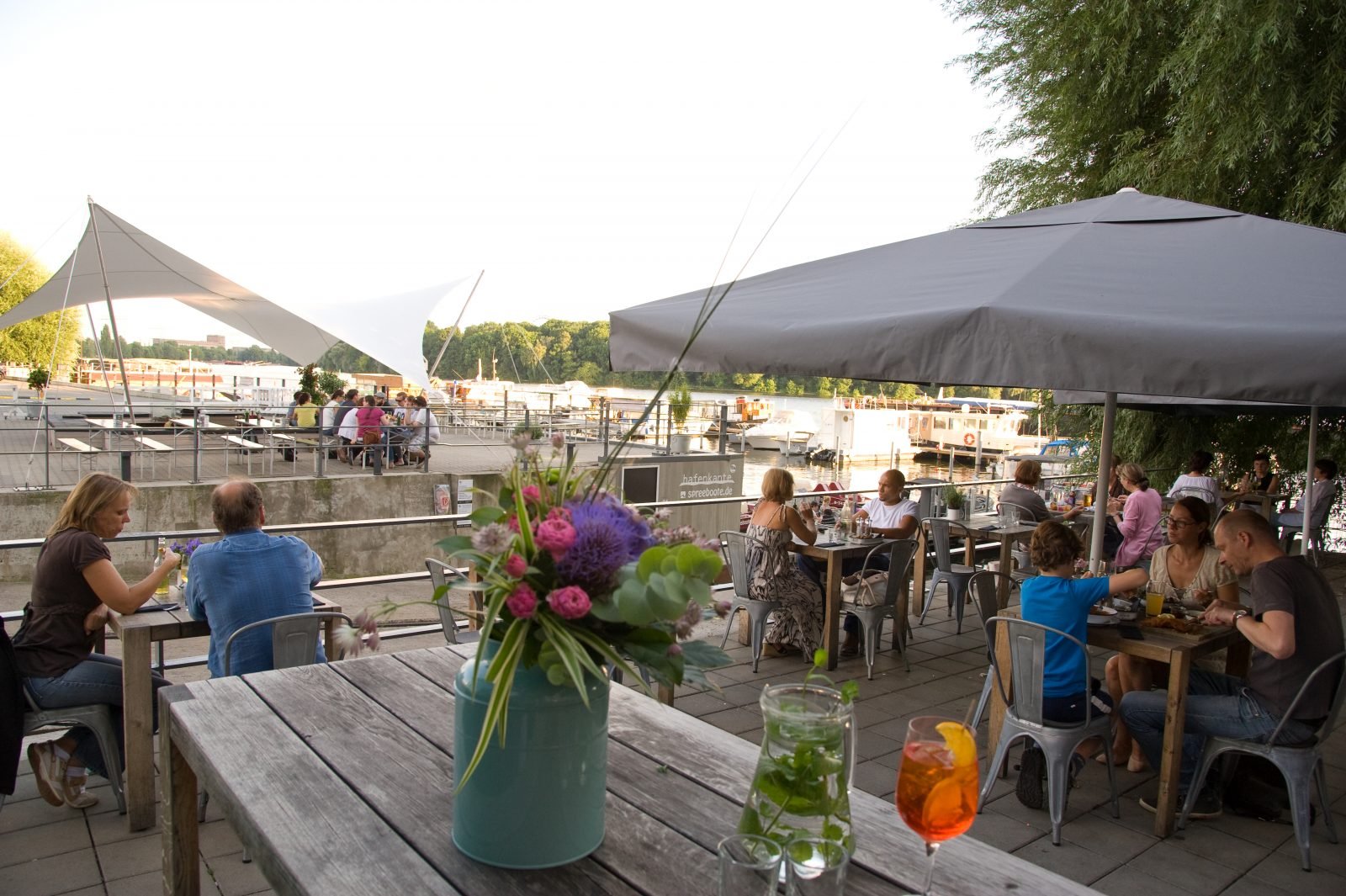 Hafenküche has proved itself to be one of the best openings between Ostkreuz and Oberschöneweide in the past few years. Think fish'n'chips, but on Stralau peninsula. We particularly recommend the affordable lunch. And when the weather's nice, the grill is turned on for the small beer garden. Picnic baskets are available to order, as are boats.
Address: Zur Alten Flussbadeanstalt 5, Rummelsburg | Mon-Fri 10am–11pm, Sat+Sun 9am-11.30pm
Directions: tram 21
---
---
Schmetterlingshorst
One of the oldest and largest day trip destinations in Berlin. After a long vacancy, this gem by the River Dahme, just below Müggelberge, is now run by the local sports association. There's cheap pea soup, beer, coffee, and homemade cake. A little treasure with real rustic charm.
Address: Zum Schmetterlingshorst 2, Köpenick | Mon-Fri 10am–5pm, Sat+Sun 10am-7pm
Directions: tram 62
https://www.schmetterlingshorst.de/
---
---
Le Petit Royal
For a little slice of France in the German capital, grab a table outside Charlottenburg's Le Petit Royal. The genteel surroundings are perfect for people watching, while classics like their Tartare de Bœuf are among the best in town.
Address: Grolmanstraße 59, 10623 Berlin | Mon-Sat from 6pm
Directions: U-Bahn station Ernst-Reuter-Platz
---
---
Spreearche
A hut on the water, but with catering. That you can only reach by boat. Sound exciting? During the week it's used as a location for events, but at weekends it's open to visitors. Buffet on Sundays.
Address: via raft from the end of Müggelschlösschenweg, Köpenick | Call in advance for opening times: 0172 / 30 42 111 (between 11am-6pm)
Directions: bus stop Müggelschlösschenweg
---
---
Horváth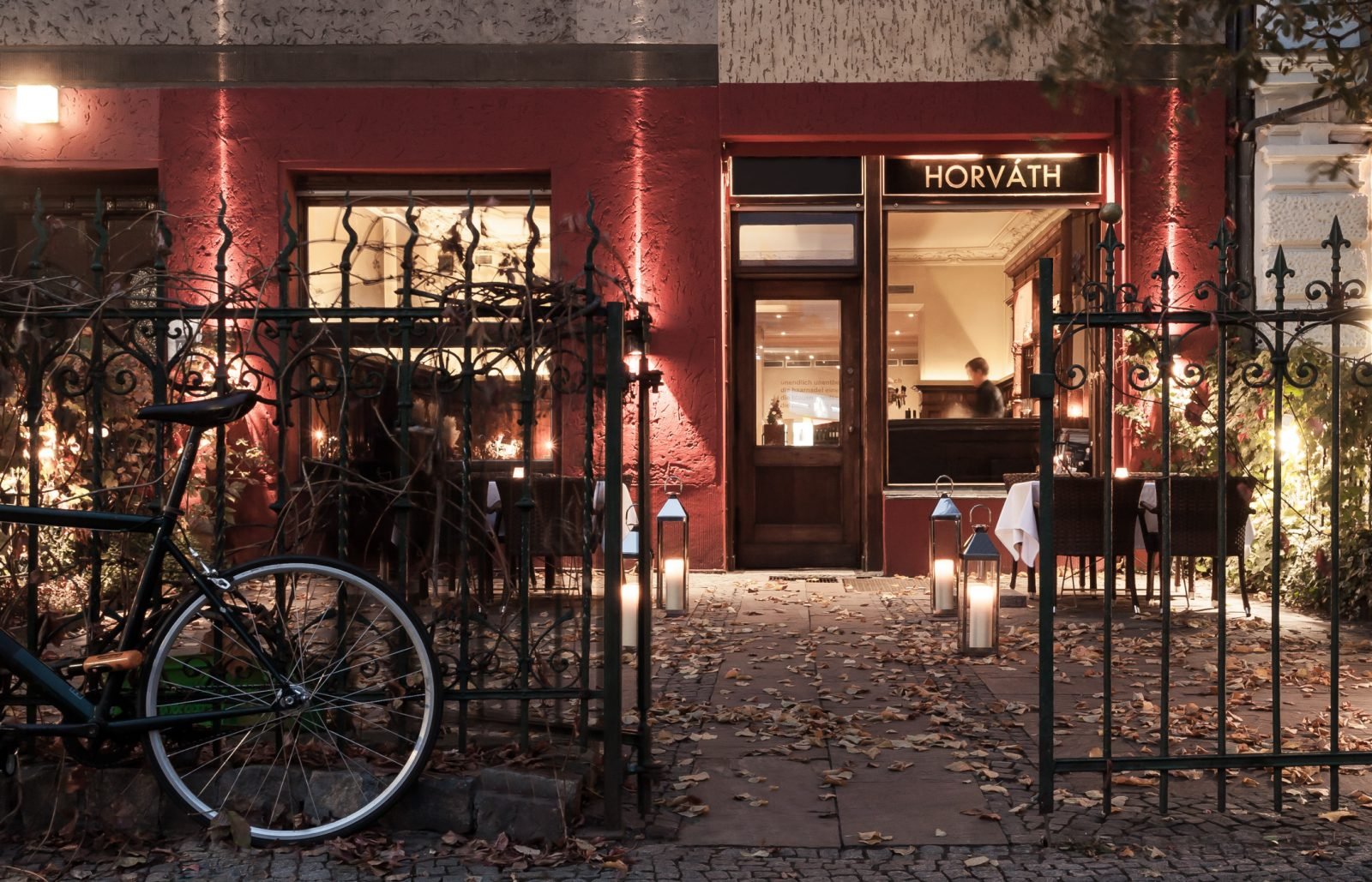 Yes, this is a Michelin-starred restaurant. Actually, two stars. Sebastian Frank's plates excite our palate and our minds. But we're also quite excited about the wonderful terrace by the Landwehrkanal. A beautiful location for special occasions.
Address: Paul-Lincke-Ufer 44a, Kreuzberg | Wed-Sun 6.30pm-10pm
Directions: U-Bahn station Kottbusser Tor
http://www.restaurant-horvath.de/
---
---
La Lucha
And while we're at Paul-Lincke-Ufer: three doors down the street there's one of the better Mexican restaurants in town. And not only because of their fantastic Mezcal selection. The restaurant, daubed in gorgeous bright colours, has a kitchen that offers so much more than just nachos and tacos topped with cheese. A dreamy summer location with a terrace towards the popular canal.
Address: Paul-Lincke-Ufer-39/41, Kreuzberg | Mon-Thu 6pm-10pm, Sat 6pm-11pm, Sat 12pm-4.30pm, 6pm-11pm, Sun 12pm-9.30pm
Directions: U-Bahn station Kottbusser Tor
---
---
Mutzenbacher am See
The younger sister of the lovely Austrian restaurant in Friedrichshain. Since the summer of 2018, they've taken over the kitchen of a camping site.
Address: Wernsdorfer Straße 28, Köpenick | Daily 12pm-9pm
Directions: bus 733
---
---
Carl & Sophie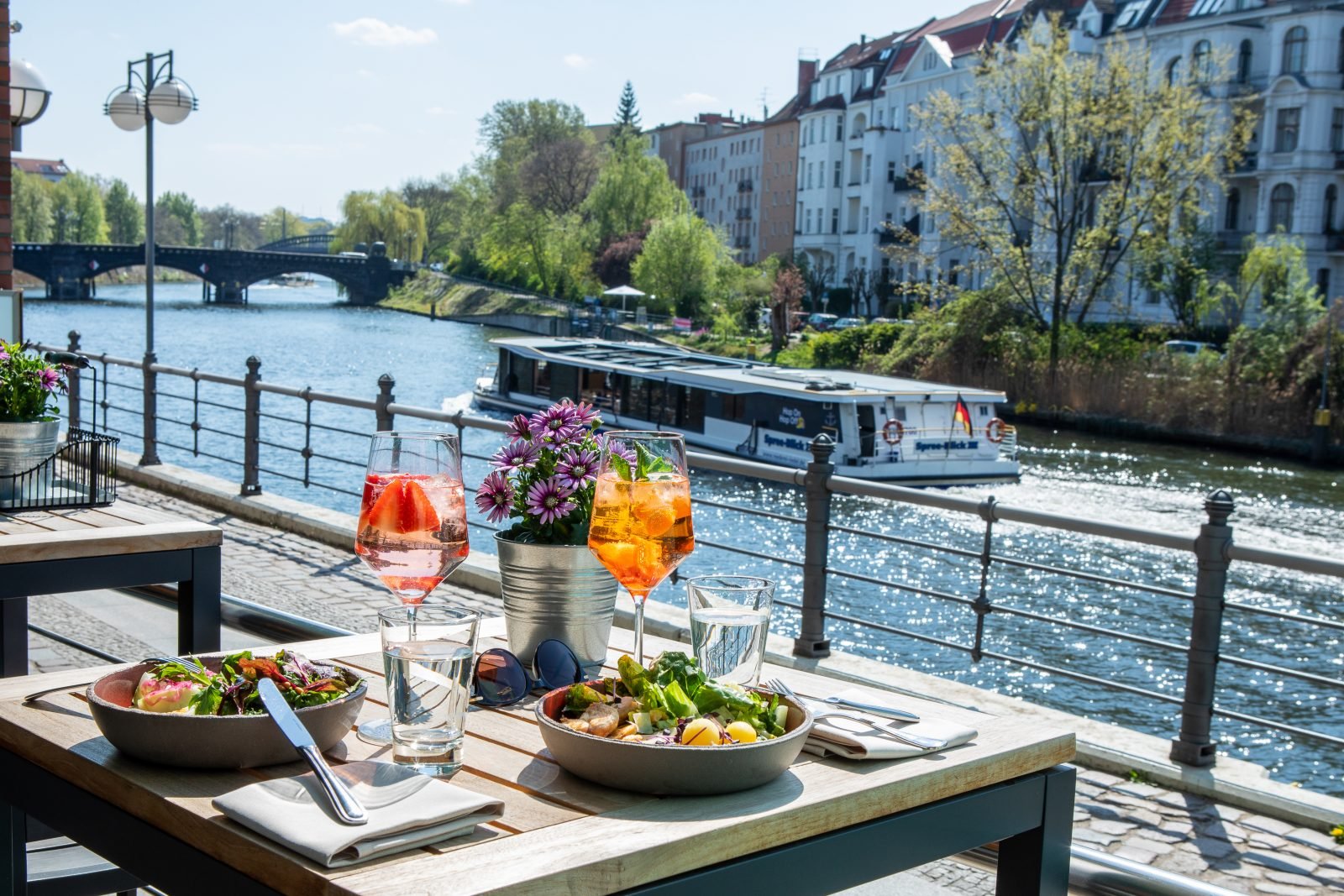 The hotel restaurant right by the Spree in Moabit only acquired its new name earlier this year. For lunch, they serve a four-course meal of small dishes (all at once) for a very reasonable €12. At night, there's a more refined concept with a Mediterranean edge. We recommend both.
Address: Alt-Moabit 99, Moabit | Daily 12pm-1am
Directions: U-Bahn station Turmstraße
---
---
Grill Royal
For special occasions, for that Berlin feeling, for very, very good meat and for the most legendary salad in Berlin, Grill Royal is the place to go. And the terrace overlooking Museum Island is really very nice, for both tourists and locals.
Address: Friedrichstraße 105b, Mitte | Daily 6pm-11.30pm
Directions: S- and U-Bahn station Friedrichstraße
---
---
Pauly Saal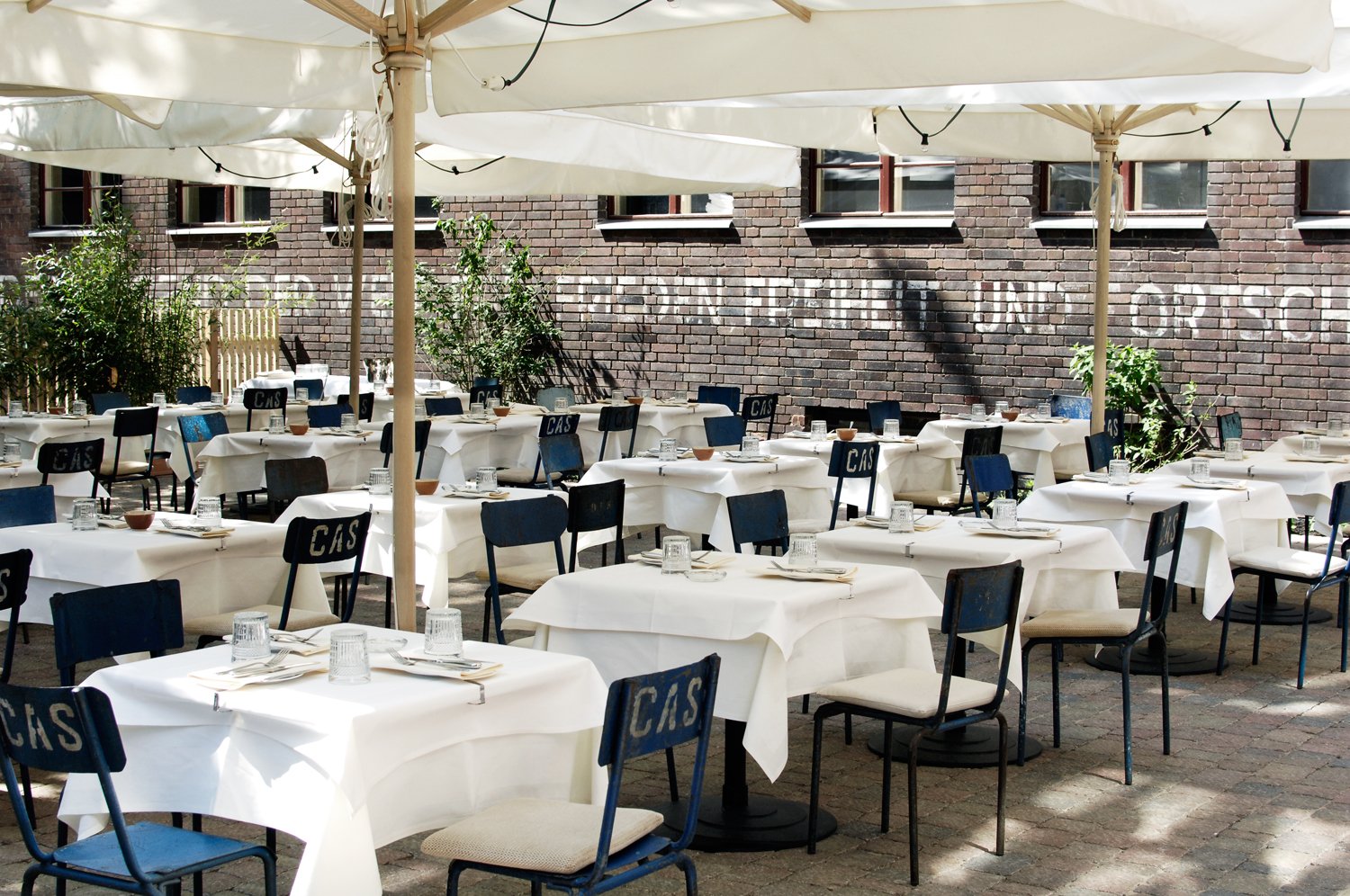 If you like your terraces with a serving of Michelin-starred food, then head to Pauly Saal in Mitte. Not only is the contemporary German cuisine worthy of the coveted accolade, the interiors are lined with tasteful art including, interestingly, a huge rocket by Cosima von Bonin.
Address: Auguststraße 11–13 10117 Berlin | Lunch: Fri+Sat 12pm-2pm, dinner: Mon-Sat from 6pm
Directions: U-Bahn stations Oranienburger Tor & Rosenthaler Platz
---
---
Translated by Aida Baghernejad
---
---
[smbtoolbar]