When it comes to gelatos and sorbets, Berlin may not quite rival Rome — but it gets pretty close. Germans have come to *love* their ice cream after all, another gift that Gastarbeiter, guest workers from Italy, brought with them in the 1950s and 60s. Our favourite ice cream shops keep the traditions alive — and top them with new twists.
---
Jones Ice Cream
Grapefruit and earl grey? Or roasted chicory coffee? Jones ain't afraid of bold tastes. But every single one of their scoops, even the most bizarre-sounding flavour combination, is a winner. You may have seen their little pastel-yellow truck at all the most beautiful markets and street parties over the last few years, but you can also taste their concoctions at their cute gelateria in Schöneberg.
---
Eisderix
Three friends with a lot of experience in hospitality and a lot of love for good ice cream without additives — that's all that's needed for the superb cones and ice lollies at Eisderix. Located in a calm corner of Rixdorf, it's the perfect stop on your Sunday stroll. Perhaps the best mango sorbet in Berlin, too.
---
Eispiraten
If you prefer being spoilt for choice, Eispiraten ('ice pirates' in English) will satisfy your every (ice cream-based) need. Each day, this tiny ice cream shop in Friedrichshain offers 32 different varieties. Our favourites: Butterkeks (buttery biscuit) and passion fruit-raspberry-cardamon sorbet.
---
Mos Eisley
Gelateria Mos Eisley is a far less wretched place than the original Mos Eisley cantina on Planet Tatooine in Star Wars. The cute cafe is, in fact, one of the cosiest ice cream shops on our list. The selection ranges from cheesecake ice cream and fruit sorbets to frozen treats with a dash of, say, caipirinha. And you can take your cones straight onto Tempelhof Feld — what's not to love?
---
Cuore di Vetro
Named after a Werner Herzog film, this very Italian gelateria is transparent in every sense: through a glass wall you can watch the large silver Carpigiani ice cream maker and flavours of the day being whipped up. Seasonal, and made from imported Italian ingredients, this ice cream will satisfy even the most sophisticated tastebuds. They also do a mean affogato.
---
Lecko Mio
Berlin was in mourning when the owners of one of the city's best gelaterias, Anne Durkes, packed her bags and moved back to Sardinia to live by the beach. Thankfully, Nadja Maßmann, a photographer and graphic designer by trade, took over the parlour and is a more than worthy successor. The pastel-coloured shop is Instagram-perfect, the ice cream comes in great flavours (popcorn, liquorice, green apple) without any additives, and she also offers fun interpretations of traditional ice cream sundaes and affogato.
---
Vanille & Marille
One of the best-known scoops in Berlin: at six ice cream shops across Kreuzberg, Schöneberg, Steglitz and Tempelhof, Vanille & Marille sell their delicious and very creamy scoops. We love the peanut with brownie bits and apricot (marille) with lavender.
---
Tenzan Lab
An ice cream parlour in Berlin where you get Kakigõri — that is, Japanese shaved ice, scraped from slowly-frozen, crystal-clear blocks of ice, which the Kakigõri masters at Tenzan Lab craft into ultra-fluffy snowflakes in front of guests using turquoise hand-crank machines. For beginners, varieties like raspberry, tiramisu or pineapple make it easy.
---
Rosa Canina
This ice cream parlour has four branches in Berlin, which we're very happy about: at Rosa Canina you get both classic and extravagant, but always to a very high standard. Here, the enjoyment of ice cream comes without artificial flavourings, and only the purest fruits, spices and chocolates find their way into the cold balls and into our bellies.
---
Fräulein Frost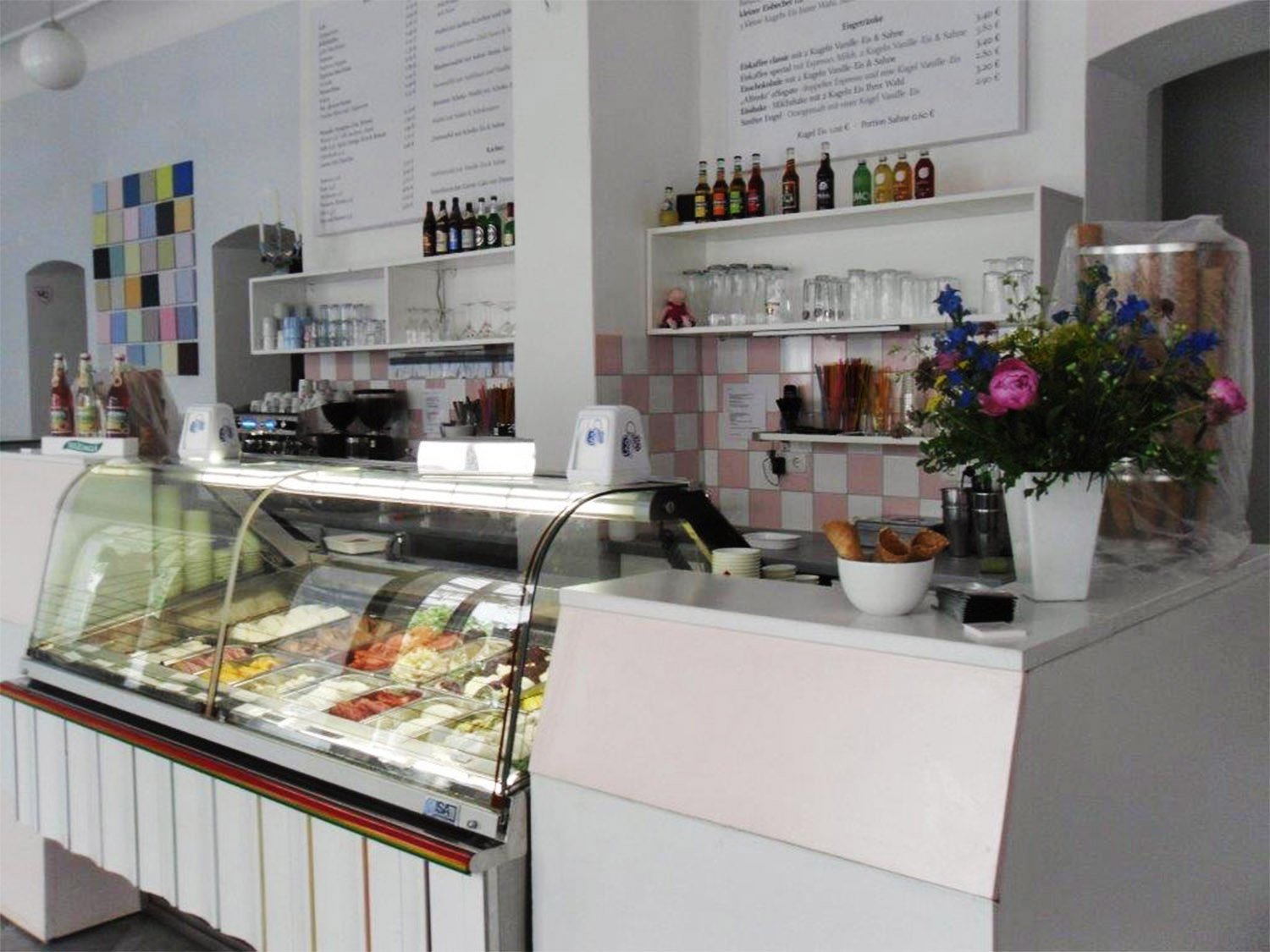 Whether pistachio, gooseberry, or white chocolate with red-berry jelly, the ice cream at Fräulein is homemade and good. The cafe is especially popular with young families, which is why it can get crowded in the afternoon during peak hours — but queuing is worth it!
---
Eissalon Tanne B
For ten years now, frozen treats have been produced at Lausitzer Platz itself. There's also soy ice cream and vegan sorbets.
---
Caramello
Caramello makes its ice cream from 100% organic ingredients. Creamy milk from Brandenburg or pistachios directly from Sicily — ingredients that star chefs also use in their kitchens are processed here. Vegans welcome too — there's a rich dairy-free selection.
---
Yogu Ono Frozen Yogurt & Icecream
Homemade frozen yoghurt, free from artificial flavours and emulsifiers, is the top seller here. Particularly popular toppings are Zupfkuchen, Turkish honey or raspberry puree.
---
Die kleine Eiszeit
This small ice cream parlour has long been an institution of the Berlin summer and still attracts numerous connoisseurs to Stargarder Straße. The classic ice cream varieties are very popular, and newcomers like white chocolate/pistachio have to really shine to make their way into your waffle.
---
Eisbox
The selection of fruit sorbets depends on the season. But, happily, chocolate and espresso are available without seasonal restrictions. All types of ice cream are produced in-house and are of organic quality.
---
Florida Eiscafé
The ice cream made here is Spandau's most famous export. The reputation of the 50+ varieties has spread beyond the district's borders for decades. The team actually makes both ice cream and ingredients themselves, and the fruit ice cream is free from lactose, gluten and artificial colouring. That's why it looks a little paler than usual. Guests appreciate the exceptional quality, which leads to long queues.
---
Hokey Pokey
Anyone who likes unusual ice cream varieties is in safe hands with Pâtissier Niko Robert. Here you can try apple-basil or butter caramel with sea salt. Perhaps the most famous ice cream parlour in Berlin. Melt away!
---
Scoopy Doo
Such an ice cream parlour should not be missing in Berlin, of course. At Scoopy Doo there is more — and it tastes darn good! The kiosk in Charlottenburg is small, but the ice cream delicious: made directly in the shop with the best ingredients and unusual flavours. The fruit mix behind their eponymous 'Scoopy Doo' ice cream will not be revealed — but who cares. Varieties change regularly and there's a wide vegan selection. Waffle fans will also get their money's worth with Japanese bubble wafers.
---
Canal Berlin
Daniela Barriobero Canal is a passionate pastry chef, which is reflected in her ice cream varieties: she mixes consistencies and textures, lets creamy olive oil ice cream meet peach sorbet, for example, covers roasted hazelnuts with chocolate for the city's most hazelnut-y ice cream, or bakes her own brownies to crumble into chocolate ice cream. Daily changing selection, plenty of choice for vegans.
---
Eiskultur
Schöneweide also does ice cream — and does it well! Eiskultur looks like pure nostalgia, but trumps with homemade varieties — unusual but never zany. How about apple butter crumble, for example? Or lemon with cinnamon? Up to 20 varieties on offer every day.
---
Original article by Aida Baghernejad with updated translations from tip Berlin food editors.
---
Summer in Berlin is a magical time: ice cream, cool restaurants for warm days, and long evenings at the city's best open-air cinemas.