Second-hand is sustainable — and browsing through pre-loved clothes is *always* fun. Nothing beats the glory of finding that perfect retro garment that no-one else will have. We've hand-picked 12 vintage shops and second-hand treasure troves in Berlin that never disappoint.
---
Shoe fans get their money's worth at Koku in Neukölln
Koku Secondhand is probably the best place to go for second-hand footwear in Neukölln, if not all of Berlin. The shop in Schillerkiez offers probably the largest collection of pre-loved Dr Martens boots you'll find anywhere in the city.
Colourful Docs, vintage styles and a selection from current collections are to be found here, plus all manner of shoes, trainers and cowboy boots from other brands.
As well as some 'new' shoes, Koku also offers a good selection of jackets and jeans at reasonable prices.
---
Beautiful vintage children's clothes at Anna och Larson
Anna och Larson: Here you'll find three rooms full of good-quality vintage garments for kids in Kreuzberg.
This second-hand shop in Graefestraße has been around for over 40 years. Anna is now the second-generation owner, alongside husband Lars.
Together they source well-cared-for children's clothes, with equal emphasis on style and quality. You won't find pieces from cheap fashion brands at Anna och Larson.
The shop also has a small selection of fabric and cashmere trousers that Anna and Lars sew themselves from old children's clothes. The range is rounded off by a nice selection of used wooden toys and special kids' books.
---
Trash Schick: Elegant, casual, typical Friedrichshain
Timeless, elegant, trashy: What hangs from the rail at Trash-Schick in Friedrichshain reflects the spirit of the fashion-conscious district. Just as the area around Boxhagener Platz has changed over the last 20 years, so too has the range of products.
Alongside outfits by Laurel or duffle coats from Burberry, you'll also find a tracksuit by Le Coq Sportif for your next casual Sunday at the flea market.
The Trash-Schick team also attaches great importance to the material and origin of their clothes. You won't find pieces made under questionable conditions here.
---
Pre-loved gems for mother and child at Frauen und Kinder zuerst
As the name suggests, 'Frauen und Kinder zuerst' ('Women and children first') in Kollwitzkiez specialises in second-hand clothing for ladies and little ones.
The range also includes clothing for expectant and nursing mothers. Extra points here for the lovingly selected goods — many of them are of notable quality, and thus lean towards a higher price bracket.
---
Hunt for bargains and treasure at Loretta in Mitte
Loretta Vintage & Second Hand was founded in 2005 by the Berlin stylist Susan Bähr. In her lovingly-run shop, select second-hand and vintage pieces hang invitingly next to each other on the rail.
Bargain hunters will be at home here. As well as clothes, it's a great spot to avail of some handsome bags, scarves, jewellery and other accessories.
Loretta has outfits for both women and men in her assortment. Those with their own pre-loved clothes to give away can also bring them to Loretta. They'll be sold on a commission basis and you'll receive 40% of the sales price.
---
Discover timeless pieces at Femme Designer Second Hand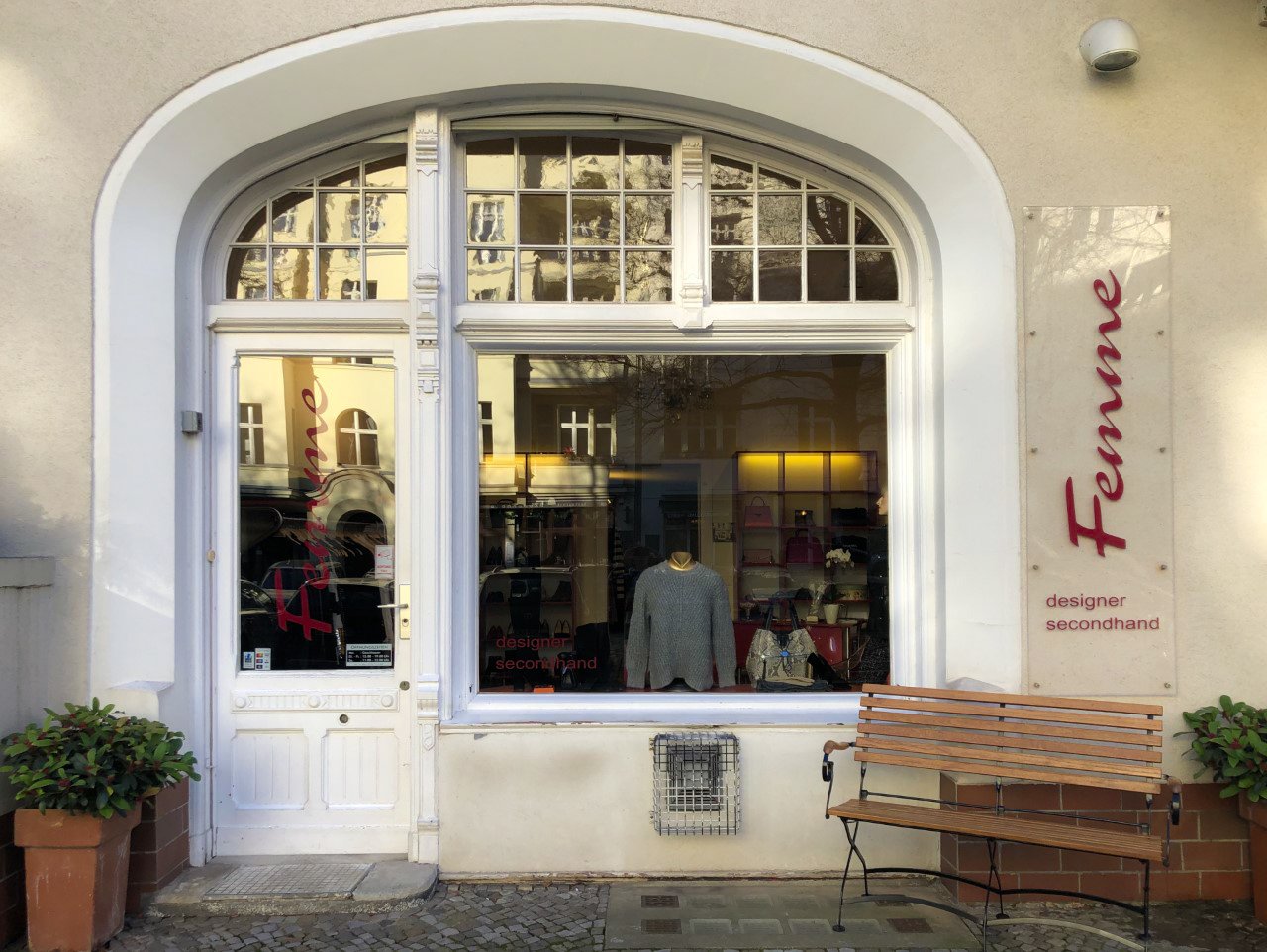 In a beautiful old building with large windows in Charlottenburg, you'll find this special vintage shop. "I'm different — in a good way," owner Hati Yetis states confidently.
Her customers appreciate the selection at Femme Designer Secondhand, now in its 18th year. The boutique shop undoubtedly enriches the neighbourhood near beautiful Stuttgarter Platz.
In the bright store on Leonhardtstraße there's no musty smell. Select garments hang neatly on rails — almost all are still labelled. Most items haven't been worn at all, some very rarely.
Yetis' assortment is timeless. Blazers, dresses, bags and shoes must be real classics to be sold on commission at Femme. The range also includes a few vintage pieces.
---
Old meets new at Allet Schick in Bergmannkiez
Kerstin Fischer has been running her beloved second-hand shop on Bergmannstraße for four and a half years. Residents of the Kreuzberg neighbourhood come from all over the world, as do Berlin's many visiting shoppers on the hunt for a stylish bargain. Accordingly, the range of goods offered by Allet Schick is colourful.
Vintage treasures from the 1950s, 60s, 70s and 80s are balanced by select contemporary second-hand goods only produced after the turn of the millennium. Men, as well as women, will find their vibe at Allet Schick. Fischer also rents out dresses for vintage-themed parties.
The Berliner is delighted with her diverse clientele. She loves it when visitors rummage through the clothes racks for hours on end to combine new pieces with old.
Besides clothes, Allet Schick also boasts a decent selection of sunglasses, including new, original and costume jewellery.
---
HUMANA – The Berlin second-hand department shop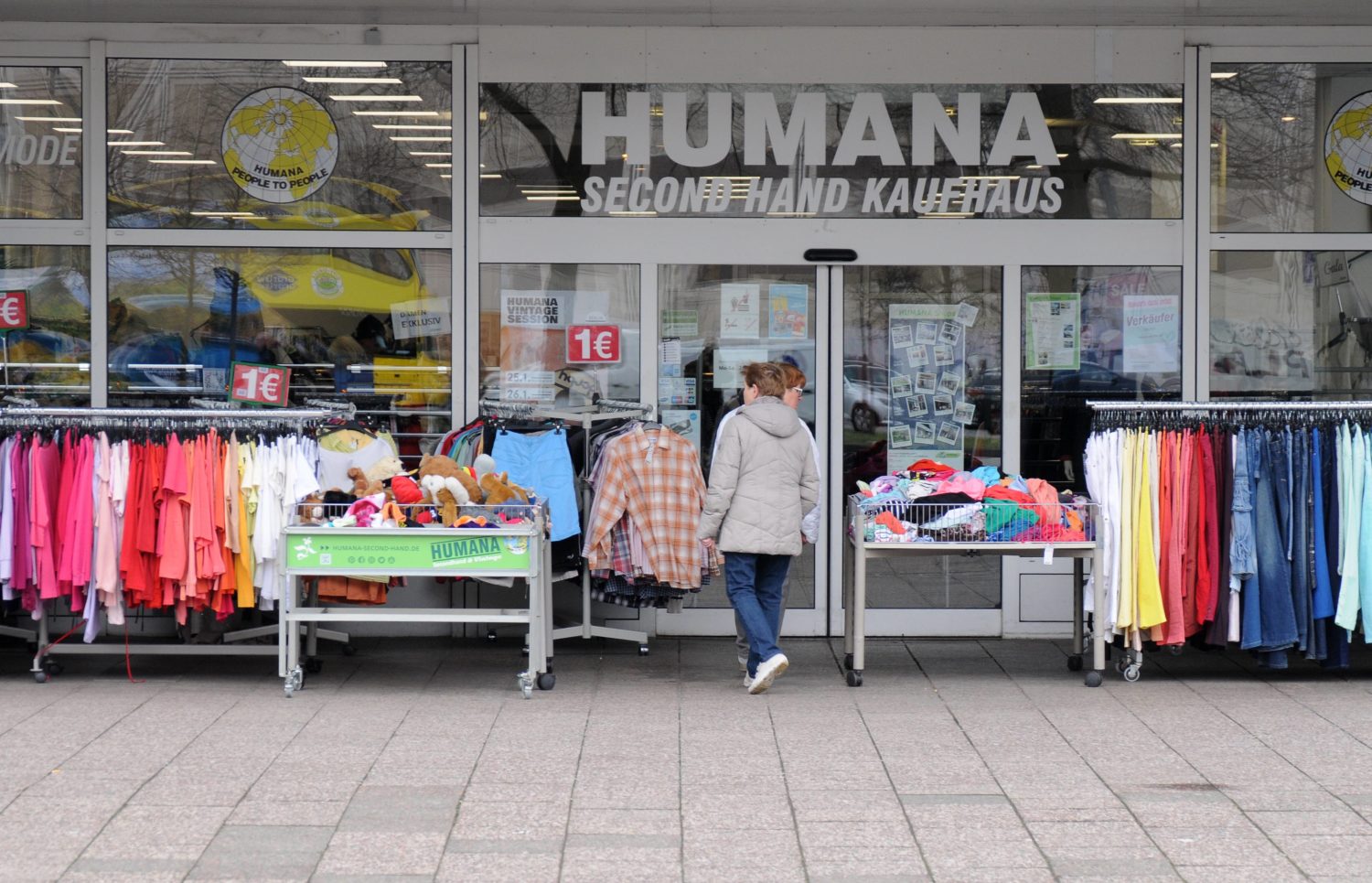 In the 17 Berlin branches of HUMAMA you'll find vintage gem after vintage gem. The Friedrichshain branch at Frankfurter Tor is Europe's largest second-hand department shop and sells around 30,000 items of clothing over 2,000 square metres. New goods are added to the assortment every day.
Throughout all Humana branches you'll come across pre-loved treasures. As well as well-preserved jeans, you'll also find unique leather jackets and used designer fashion. Humana is probably the best-known name among Berlin's vintage stores.
---
Browse through unique finds at PICKNWEIGHT
PICKNWEIGHT is a second-hand institution both in Berlin and beyond. Branches can be found in Hamburg, Cologne, Munich and London, where vintage fashion is sold by the kilo.
There are three outlets in Berlin, at which you can rummage undisturbed for hours. The shop in Kreuzberg's Bergmannstraße is particularly noteworthy. Here you can find especially beautiful accessories. It's best to bring a little time with you.
---
Clothes with a story at VEIST
There's always a tale behind lovingly-donated items of clothing. At Veist Kleidergeschichten ('Veist clothing stories'), we get to read about them. On all hot pants, bolero jackets, velvet dresses or suede loafers on display here hangs a label with a short version of their life story.
The Neukölln second-hand shop also sells vintage designer pieces by Versace, Hermès or Missoni.
---
Vintage shopping with a smile in Moabit: Bahar Berlin Edeltrash
This small second-hand shop in Moabit is run by owner Sara-Solange Pulat. If you don't like to browse alone, you'll always find friendly advice here.
From casual to chic, from no-name to designer, vintage lovers can expect a lot here. Bahar Berlin Edeltrash sadly doesn't offer men's clothing, but there are a few couches, lamps and other vintage furniture pieces to be found beyond women's fashion.
---
Feel the passion for fashion at HAHAYOUREUGLY
A musty, dusty reputation often clings to second-hand goods: At HAHAYOUREUGLY, the team is keen to teach its customers a new lesson.
In May, HAHAYOUREUGLY moved from Kreuzberg to Warschauer Straße. Everything sold in this modern shop is lovingly selected, fresh and beautifully made.
The assortment ranges from wild disco colours to high-class designer fashion. And so it fits perfectly with Berlin.
Original article by Rosanna Steppat
---
It's essential to line your stomach before setting off on a vintage shopping spree. Here are 12 of our favourite breakfast places in Berlin at which to do just that. And once you've found that dream outfit, strike a pose at one of the city's most Instagrammable spots to impress your friends.